ART FROM THE HEART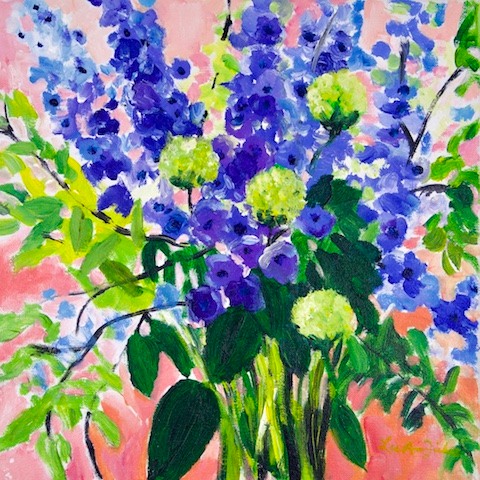 Hi! I'm Lee Ann Zirbes
Impressionism Painter, Self Proclaimed Interior Designer, Feature Wall Creator
Paint Color Expert, Silk Flower Arranger, Wife, Mother, Grandmother, Australian Shepherd Owner
And...Entrepreneur!


What is It All About?


Art From The Heart is all about interior design and art, and in particular ART! I create my paintings from the heart of me, whether it is a meadow in France, the coastline of California, the prairies of Illinois, the mountains of Hawaii, the forests of South Carolina, the gardens of England, or the seacoast of the Mediterranean, I put my whole self into it. I love to paint a variety of subjects from many different locations because I know that everyone has different tastes and wish lists of what kinds of paintings they would like to see on their walls. When I am not in my studio painting or working on marketing, I am either spending time with my husband Mike, or playing with my australian shepherd Sophia. I love to arrange silk flowers when I have the time or rearrange my house or decor style. We paint walls too, and my husband is a genius with renovations of any kind. Mike and I love to walk in the forest preserve or take photos of the mountains, lakes, wildflower prairies and landscapes.
Mike is my professional photographer and he does an excellent job of capturing just about any scenery and photos of my artwork. He also frames my original paintings that are going to exhibit. After we've spent time outside we like to shop, and go to one of our favorite restaurants.
I love spending time with my extended family whom I adore, and my three beautiful granddaughters.
In a day and age when there is such adversity throughout the world, I believe we need to realize that life is still worth living and that there is still so much beauty in the earth to enjoy and to be thankful for. The sun still comes up every morning and the moon shines at night. Sparkling stars fill the navy blue sky at night, the golden sun rays stretch across pink and orange sunsets and clouds rush across the heavens during the day showing their brilliance. The blues, greens, grays and whites of the seas move and toss, while birds dive and rise overhead. The majestic mountains tower over the waters in green, lavender, purple, blue, orange, pink, salmon colored rock formations gleaming in the daylight. There are the powerful trees of the forest with their thick wooden branches and glorious foliage, and the colorful plants and flowers that cover the lands from one side of the earth to the other and are refreshing to behold. Think of the endless species of plants and animals, the many facets of weather, from snowstorms to monsoons, warm sunny skies and balmy winds to cold icy snows and frigid temperatures, a variety of environments all giving credence to our creator. These give me cause to rejoice and enjoy the vastness of the planet and to recreate that beauty with my own individual style on canvas.
During my downtime, when I can find some, I do a great deal of reading and art research. The art research is something I really enjoy, it relaxes me, and fuels me up for my next painting. I like to look at garden books, magazines, photos and paintings online. Or just looking out of my window at the trees, flowers and the sky. Much of my artwork is made up of ideas that come to me as I view beautiful scenery, and I like to create a piece from several different photos and put them together to make up one painting. Imagination and creativity are involved in each painting and I just make the final result what I want it to be. I often just entitle my work according to something I like, have seen or an impression and use the idea I have to create a name for the painting. I keep up with interior design feature wall colors, furniture and decor trends and the latest lookbooks from my favorite manufacturers. Keeping my focus up to date like this sharpens my perspective on what and how to create paintings that are a modern fit for people that are looking to coordinate their interiors. Visit my Pinterest Profile @leeannzirbesartist.
Be sure to sign up for my email newsletter!
Special offer included!