ARTIST LOOKBOOK
Your "Go To" For Easy Decor Tips

With Your Design In Mind!
Staying Inspired By Discovering The Creative In You...
Learn how to find fresh inspiration...

Ever feel stuck without any ideas?
Learn tips and design ideas to decorate your personal space, the easy way...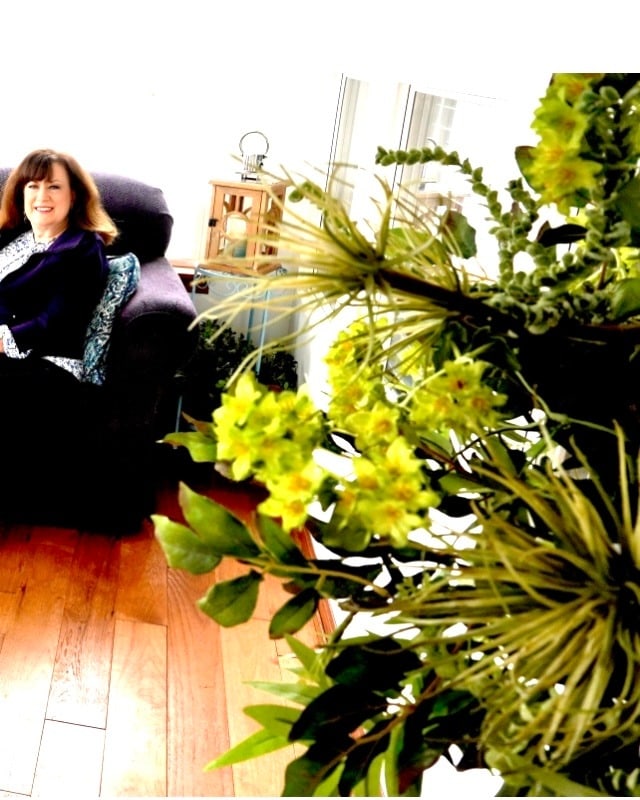 Staying inspired can come more easily at times by just relaxing...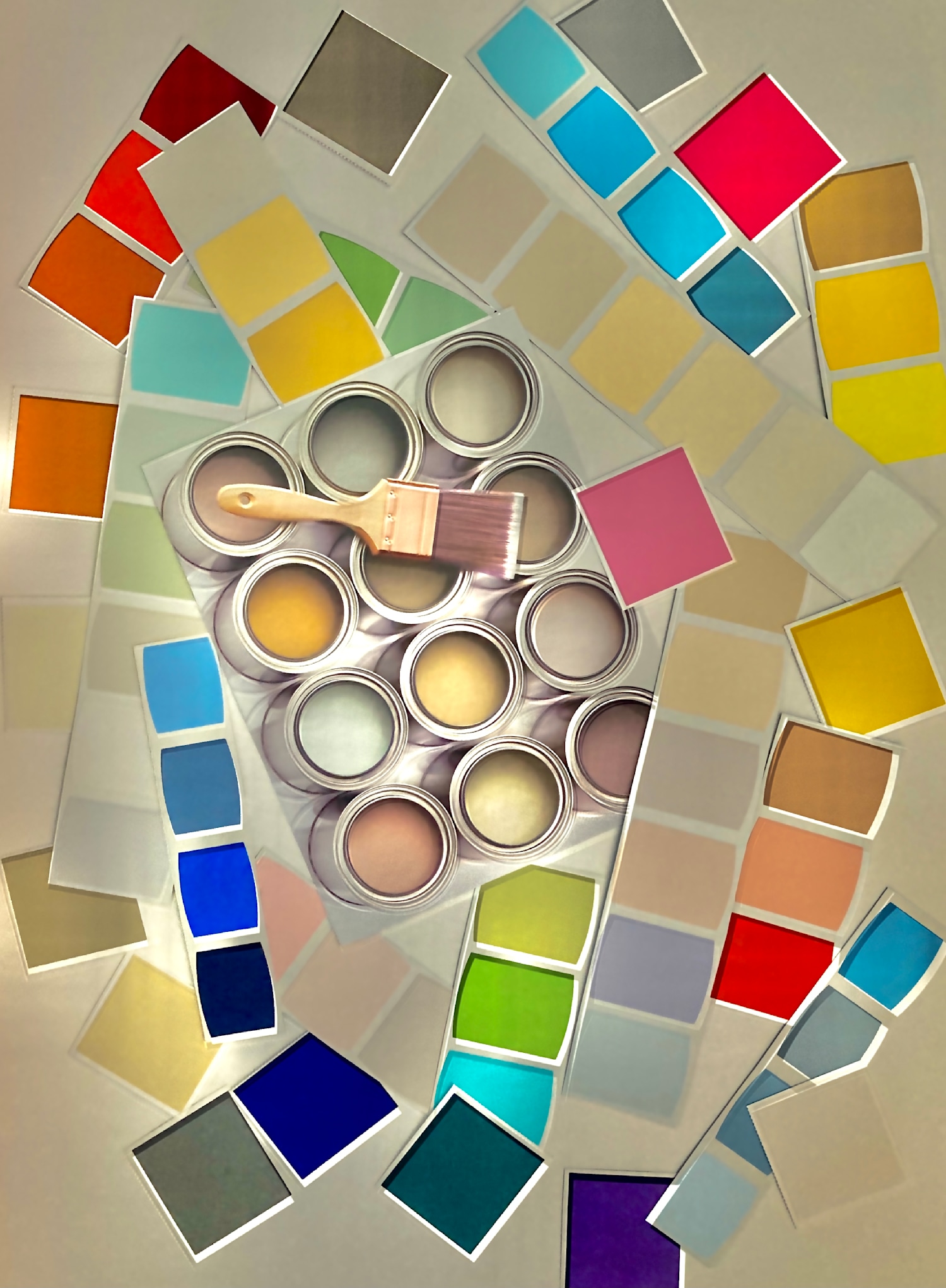 Let's Decorate!
Learn And Grow
LEARN NEW ASPECTS OF ART AND DESIGN THAT CAPTURE THE STYLE OF YOUR PERSONALITY. ~ You are unique, there is no one else on the planet exactly like you, so
why not express yourself for who you are and what you like, not an imitation of something in the marketplace but something that tells your story...wall
colors that you can relate to and that you are passionate about, and artwork that gives you a sense of home and the memories you cherish...
Is your budget tight right now but you do have a strong desire to get going with changing your surroundings and creating a more beautiful house or apartment? A place that expresses who you are as a person and not a house that has the tastes of the former resident who lived there? I have good news! It's easier than you think! First of all start thinking about PAINT COLORS!! That is numero uno! Painting a house or apartment makes it look new! So get to the hardware store ASAP and get some paint sample brochures and paint sample chips...They're FREE! Get stacks of them, get something to drink out of the fridge and start perusing through them! The brochures are especially interesting and informative and full of great decorating tips!
Hold your paint samples up to your wall and see how they look at different times of the day. Home Depot, Menards, Walmart, and many local hardware stores run paint sales frequently so you should be able to scrape together some cash to buy a few cans of paint in your favorite color and start with doing one wall at a time or one room at a time. Brushes, rollers, roller pans and tarps are inexpensive, and you can do it yourself, just be sure to load plenty of paint into the roller and don't press hard, softly roll the paint onto the wall, first in a large M pattern and up and down over that, then repeat for each wall section.
Make sure you ask the salesman for the right grade of roller depending on whether you want your walls really smooth or textured. Also, it is best to buy a good brand of paint or you could run into problems getting good coverage. It pays to spend a little more to get the best.
The next thing you may be considering is decor items and how expensive they are in the stores and online. In every town there are scads of wonderful thrift stores and resale shops! I am sure you have heard of Goodwill. Amazing Goodwill, you've seen the billboards on the highway. They aren't kidding about this claim. These shops have some of the most amazing finds in picture frames, antiques, household items, silk flowers, pottery, dishes, curtains, and furniture. I bought some of my first tables and chairs in these stores and painted them myself using a semi-gloss paint, it was so much fun.
Interior design magazines are a great source for decorating ideas and they are available everywhere. You can even make a vision board by cutting out photos of your favorite ideas and then copy them by shopping resale! Resale shops have amazing deals on all kinds of decorating items and way below the cost of regular stores. Read on now on how to put this all together by learning what kind of decor fits your unique personality and temperament.




Choosing Room Colors
I've discovered that a fun and creative way to choose your room colors is to figure out what kind of personality that you were born with.
Look at these examples and choose which set of traits best describes the real you.
Are You: Emotional, Influencer, Socializer, Expressive, Witty, Easy Going, Not Goal Oriented?Casual Decor, Farmhouse, Country Style, or Eclectic, or a Combination might be right for you.
Are You: Volitional, Dominating, Director, Driving, Extroverted, Optimistic, Outspoken?Traditional, Structured and Conventional might be right for you.
Are You: Rational, Cautious, Thinker, Analytical, Decisive, Organized, Goal Oriented?Combination Decor, Country, Traditional, Coastal, Modern with Mixed Styles, Colors, and Elements might be right for you.
Are You: Personal, Steady, Relater, Amiable, Introverted, Pessimistic, and Soft Spoken? Minimalist Decor, Modern, Clean Lines, Simple Decor might be right for you.
Now you may see yourself here, and the the kind of decor you would probably be naturally drawn to, but there are no rules here. Whatever you do, don't let someone else choose for you. Your personal space should make you comfortable, and be a place that you are confident in when entertaining your guests.
Warm Colors ~ Red, Yellow, Orange, Brown
Cool Colors ~ Blue, Green, Purple, Black & White, Metallics
These Basics Have Derivatives
Aqua and Turquoise ~ Calming and Relaxing
Pale Pink ~ Soothing and Relaxing
Hot Pink ~ Passionate
Red ~ Bright, Lively, Exciting
Blue ~ Stimulating
Orange ~ Energizing
Purple ~ Serenity
Yellow ~ Sociable
Green ~ Harmonizing
Brown ~ Comforting
Black and White ~ Sophistication
Gold or Silver ~ Glamorous
If you want to cool down a warm room, add accessories in cool colors or patterns. If you want to warm up a cool room, add accessories in warm colors or patterns.
Color Affects Our Emotions
Color definitely affects our emotions, and the look of the room you are in affects how you feel in that room. It may be a color that makes you feel warm and cozy, or it may make you feel cool and calm. I like the color of our family room in our home where we spend time at the end of a busy work day. The color is a very soothing blue call resolute blue by Sherwin Williams. It is a calming and soothing color, it makes the space feel relaxing.
Color Associations We Are Familiar With
RED: love, life, power, flames, heat, rubies, roses, berries, Christmas
YELLOW: sunshine, lemons, daffodils, butter, saffron, bananas, ducklings, custard
ORANGE: oranges, tangerines, pumpkins, clay, spices, sunset, autumn leaves
GREEN: grass, leaves, ferns, sea, plants, tea, peppers, olives, mint, spring, youth
BLUE: sea, sky, bluebells, jeans, blueberries, bluejays, heaven, calm
AQUA & TURQUOISE: oceans, freshness, summer, mountain streams, turquoise stones
PALE PINK: softness, babies, powder, strawberry ice cream, bubble gum, roses, seashells
HOT PINK: passion, tropical, exotic, flowers, lipstick, spices, heat, zinnias
PURPLE: violets, plums, heliotrope, lilacs, luxury, grapes, eggplants, cabbage
BLACK & WHITE: tiled floors, newsprint, photography, piano keys, zebras
METALLICS: wealth, glamour, opulence, celebrations, car, technology
BROWN: wood, coffee, chocolate, dogs, horses, toffee, earth, comfort, security, nuts, cookies
There are no real "rules" to decorating so of course you can do with your decor as you please, the point is enjoying the art of creating a space that expresses who you are, and what you like. Adding a feature wall by painting one wall a different color that is lighter or darker than the rest of the room or adding a patterned wallpaper can add nice visual interest. When choosing wallpaper remember this, busy patterns generate activity and alertness, while serene or simple patterns generate relaxation. The thing to remember also are your colors, bright colors verses serene colors. Subdued colors that are grayed down will bring a more peaceful feel, while bright colors generate activity. Usually a subdued hue in a bedroom or an area that you want to relax in like a family room are suited to a lower amount of pigment or a soft light tone like a light green or a taupe. Save the bright reds and yellows for active rooms like kitchens or recreation rooms. Don't forget that your accessories can add or subtract warmth, coolness or visual stimulation. Too much decor can be draining, keeping it simple and not overdoing it is entertaining to your guests. You want to add attractive paintings, art prints and decor to make it interesting without it being gaudy. Too much decor will make the house feel smaller, crowded in and cluttered. Back in the day when so many people were decorating country, it seemed like the more pieces you could cram into a room the better, but those days are gone now.
I saw some of these in the book "Color For Your Home" By Sally Walton and I added a few of my own ideas. But you can experiment with color and put your own special style in your environment.
BELOW ARE SOME EXAMPLES USING MY ARTWORK TO CREATE A FEATURE WALL IN YOUR HOME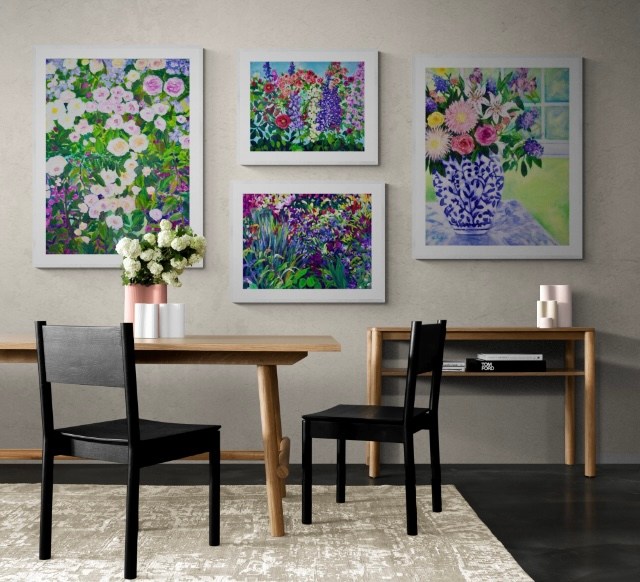 KITCHEN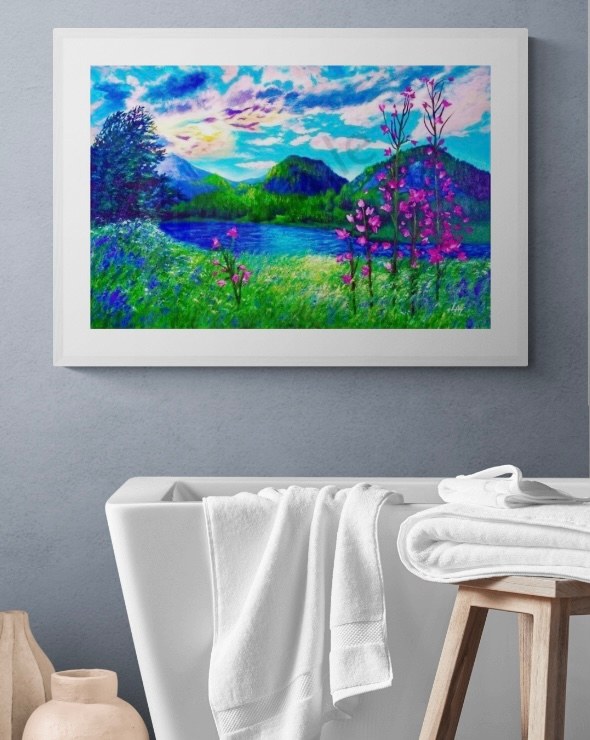 BATHROOM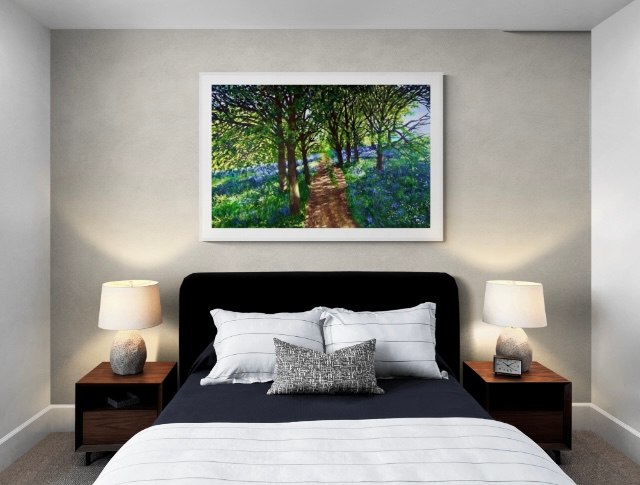 BEDROOM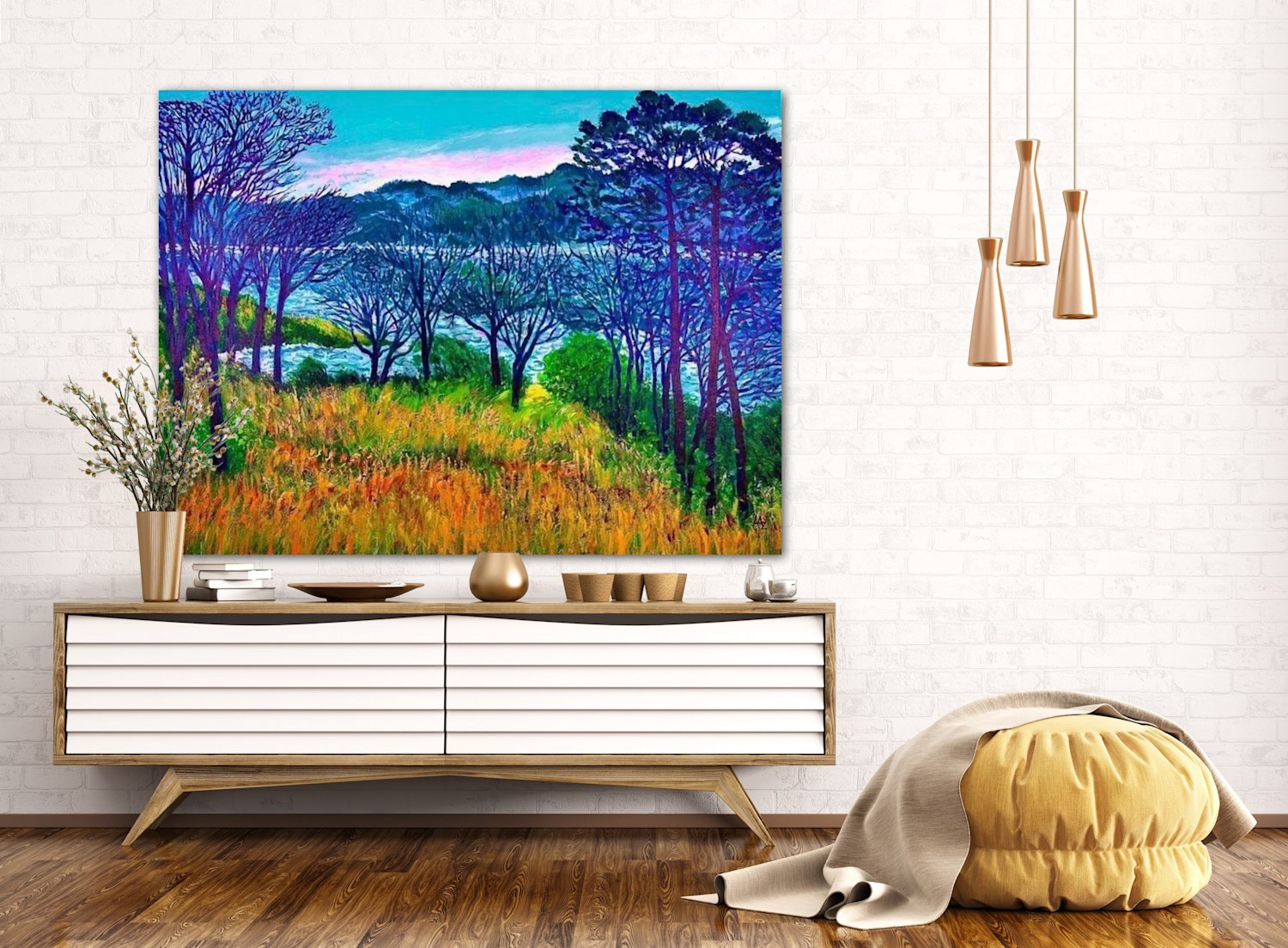 FAMILY ROOM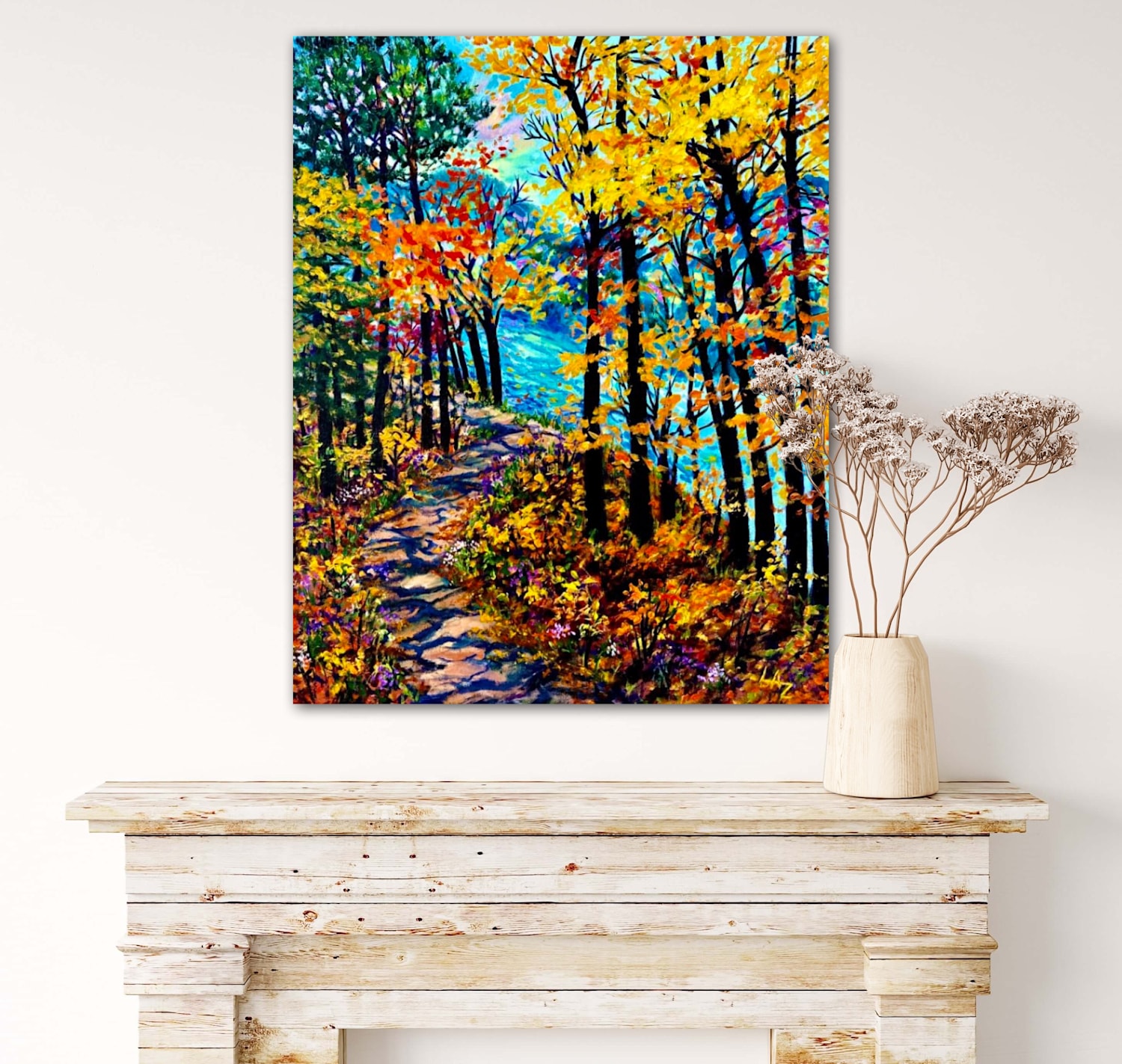 DEN OR OFFICE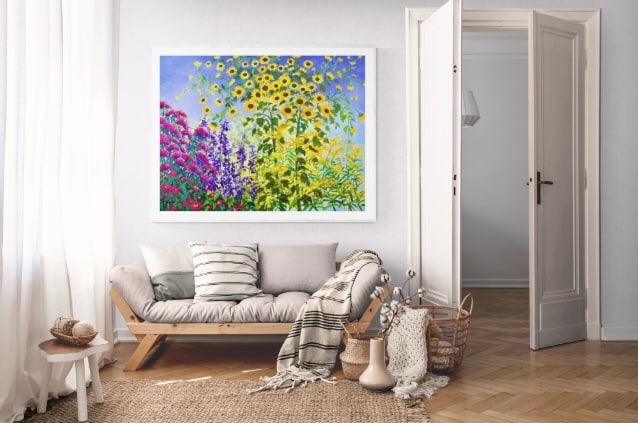 LIVING ROOM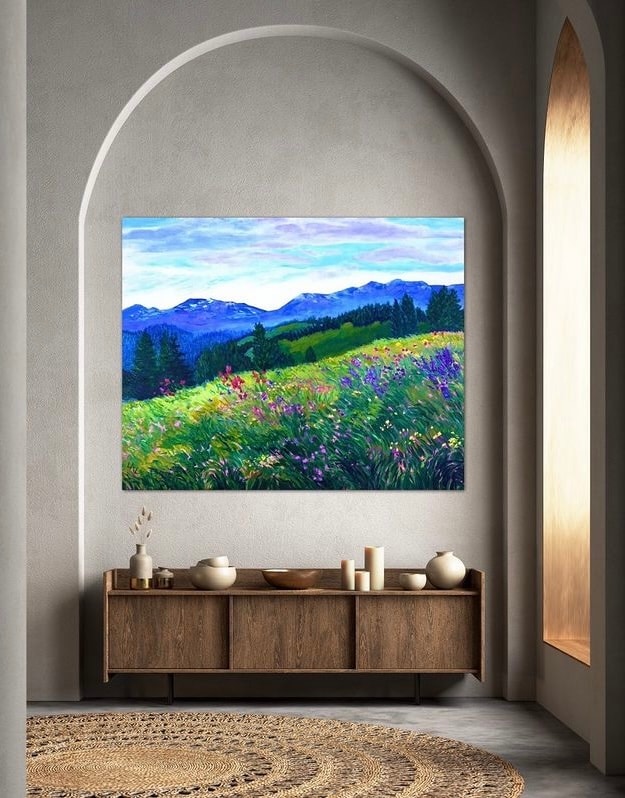 DON'T FORGET YOUR FOYER
ON BEING AN ARTIST
I think sometimes that people think that being a full time professional artist is all fun and games, but in reality it is really a lot of very hard work. As creatives know, it is not something that comes easily or without dedicated effort. But as they say if you love what you do, it makes your work your play, at least part of the time! It is work that I love and I wouldn't want to do something else although originally I wanted to be a horse trainer, english style. I love horses and everything about being an equestrian, but after having to have both knees replaced, I decided that art was a better career for me. I love painting beauty and bringing that into people's lives, homes and families. It is so gratifying when someone says to me that one of my paintings reminds them of somewhere special that they have been or of the precious memories that the painting brought to their mind. It makes the artwork so special and personal to them and to their loved ones. It brings me so much joy to be able to give that to others.
A woman bought this painting and hung it on a feature wall in her home. It reminded her of a special vacation she and her husband took to celebrate their anniversary, so it signifies a cherished memory.

"SMOKY MOUNTAIN SUNLIGHT"
CONFIRMED HOMEBODY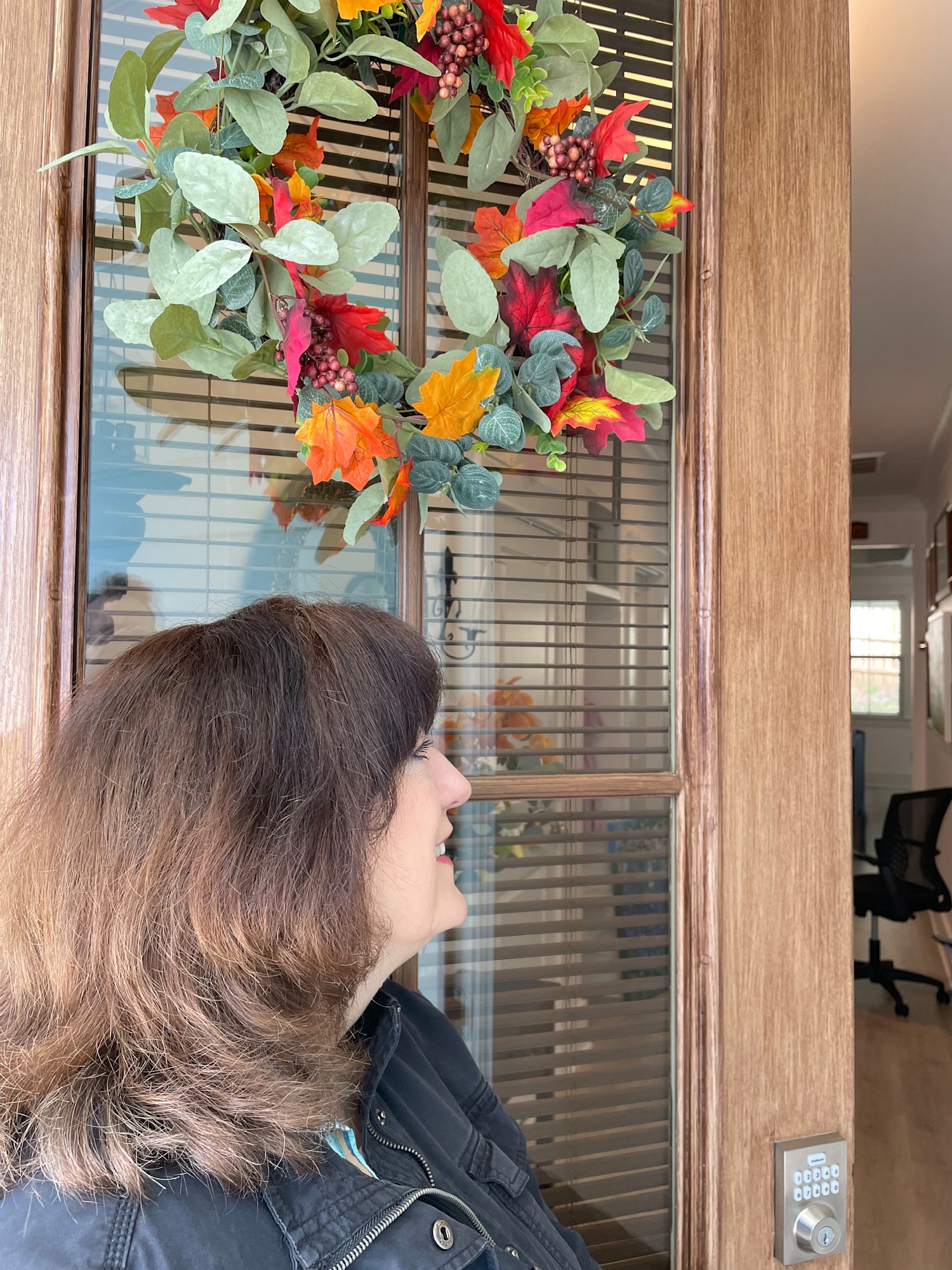 I am a confirmed homebody and I like everything traditional in life, like marriage home and family. I like to cook, but only if I'm not rushed. Shopping is a favorite as well, especially in the many different interior design stores. Such fun, and a great place to find inspiration for artwork and the household decorating that I love to do. Cleaning house is not something that I particularly enjoy, but I do enjoy the results. My husband helps with the household chores and cooking for which I am truly grateful. Home is where I would rather be than anywhere else on any given day. I like being with my dog Sophia, and taking her for a walk. I do like getting out in nature, especially the forest preserve and going for coffee and a dark chocolate brownie. Below is a photo of one of my paintings entitled "RURAL REPRIEVE" It is fulfilling to be able to sit back and enjoy a finished canvas after many hours of working in my art studio. As usual after doing artwork, I may have a little paint in my hair.
THIS PAINTING TOOK MANY HOURS TO COMPLETE BUT IS ONE OF MY FAVORITES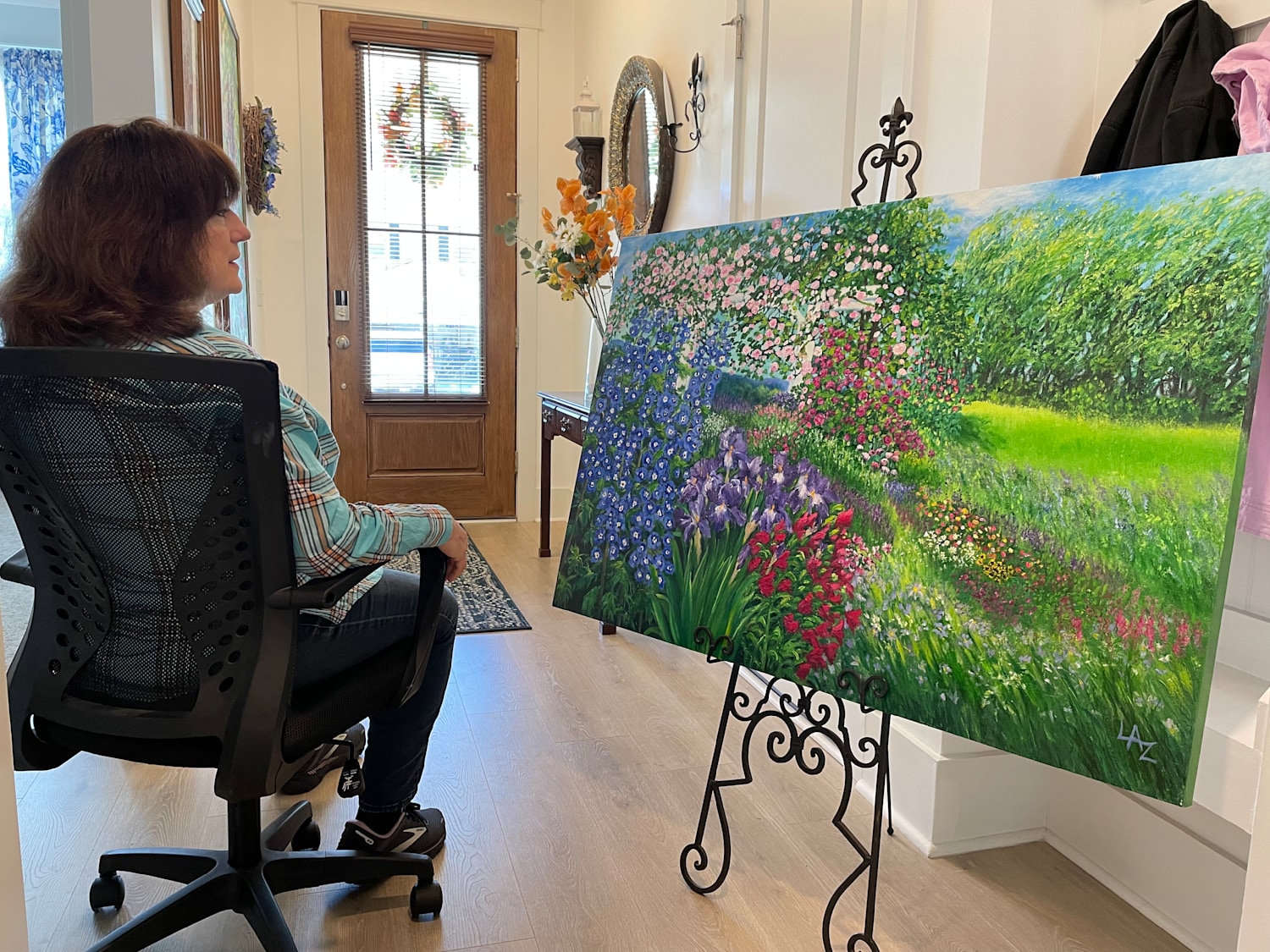 "RURAL REPRIEVE"
This painting was inspired by viewing the countryside of South Carolina.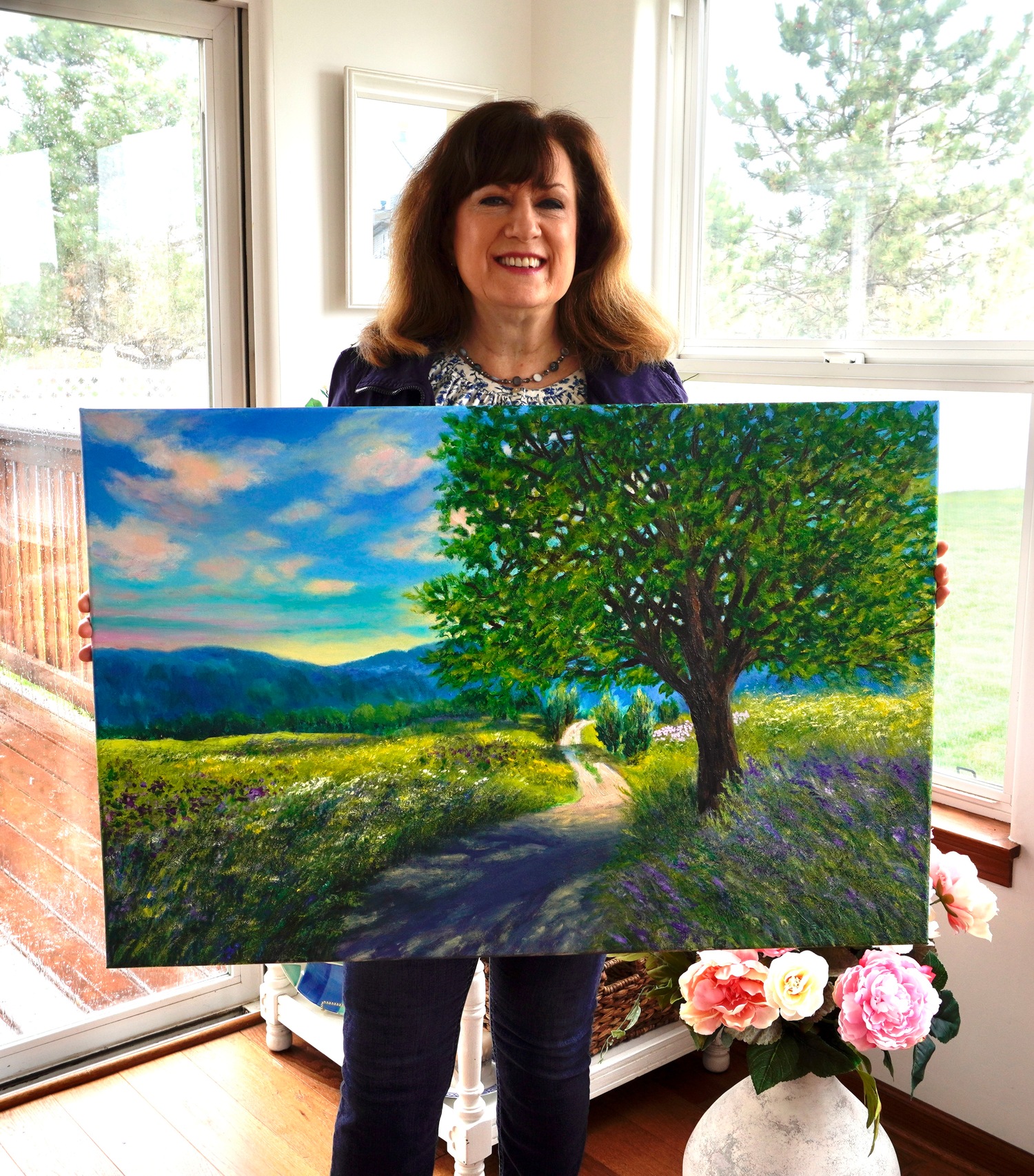 \

"IN THESE FIELDS"
MURAL ARTIST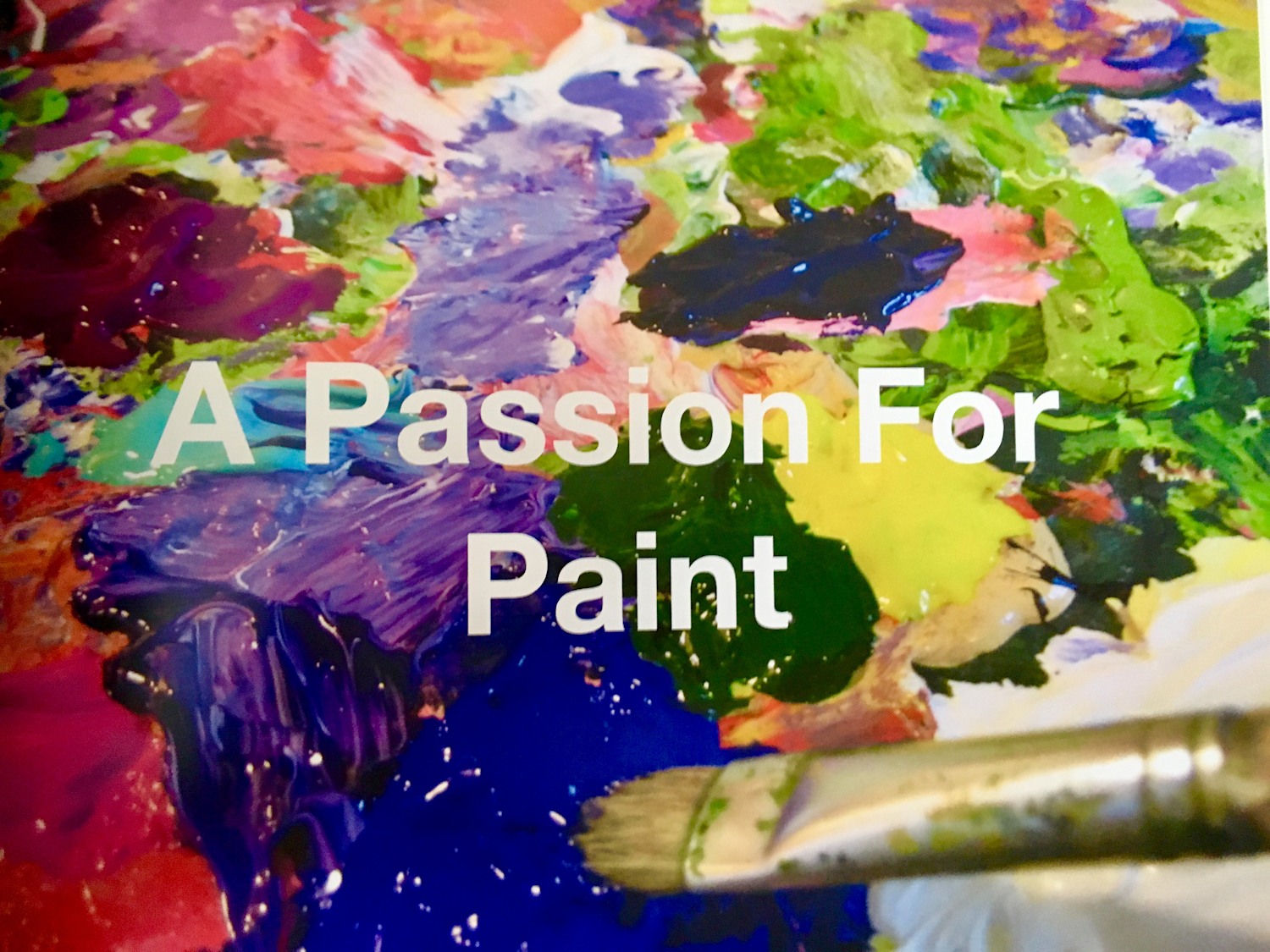 I worked as an independent contractor in over 80 homes in the western suburbs of Chicago as a mural artist and did business with a paint company. I went into the home ahead of painting the mural and helped clients choose their wall colors. I really liked that part of my job because I have such a passion for paint! It was fun! I enjoyed how enthusiastic people were to have me in their homes painting designs on their walls and I would return home tired but fulfilled, knowing that I had added beauty to their space.
These are a few of the murals I painted...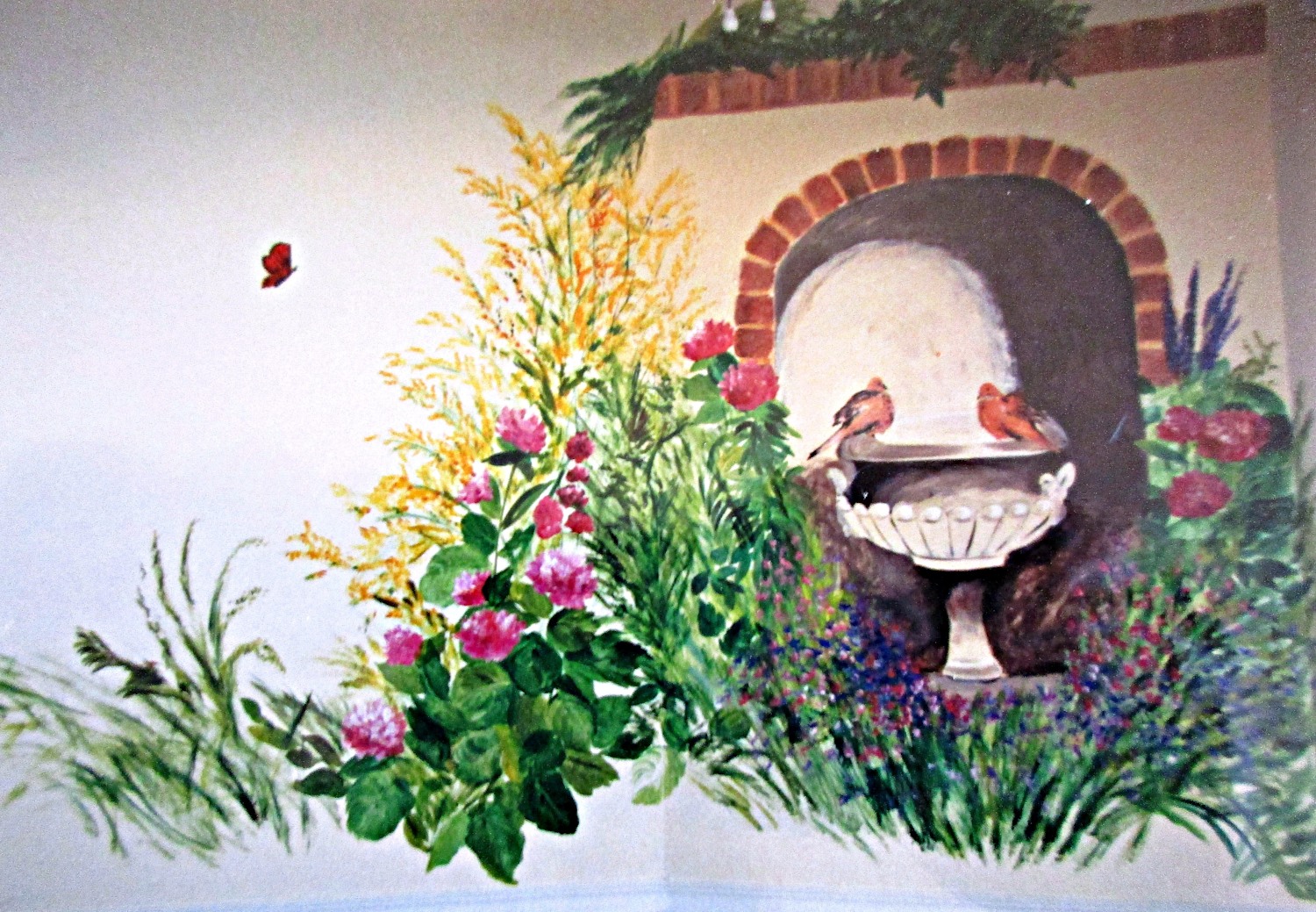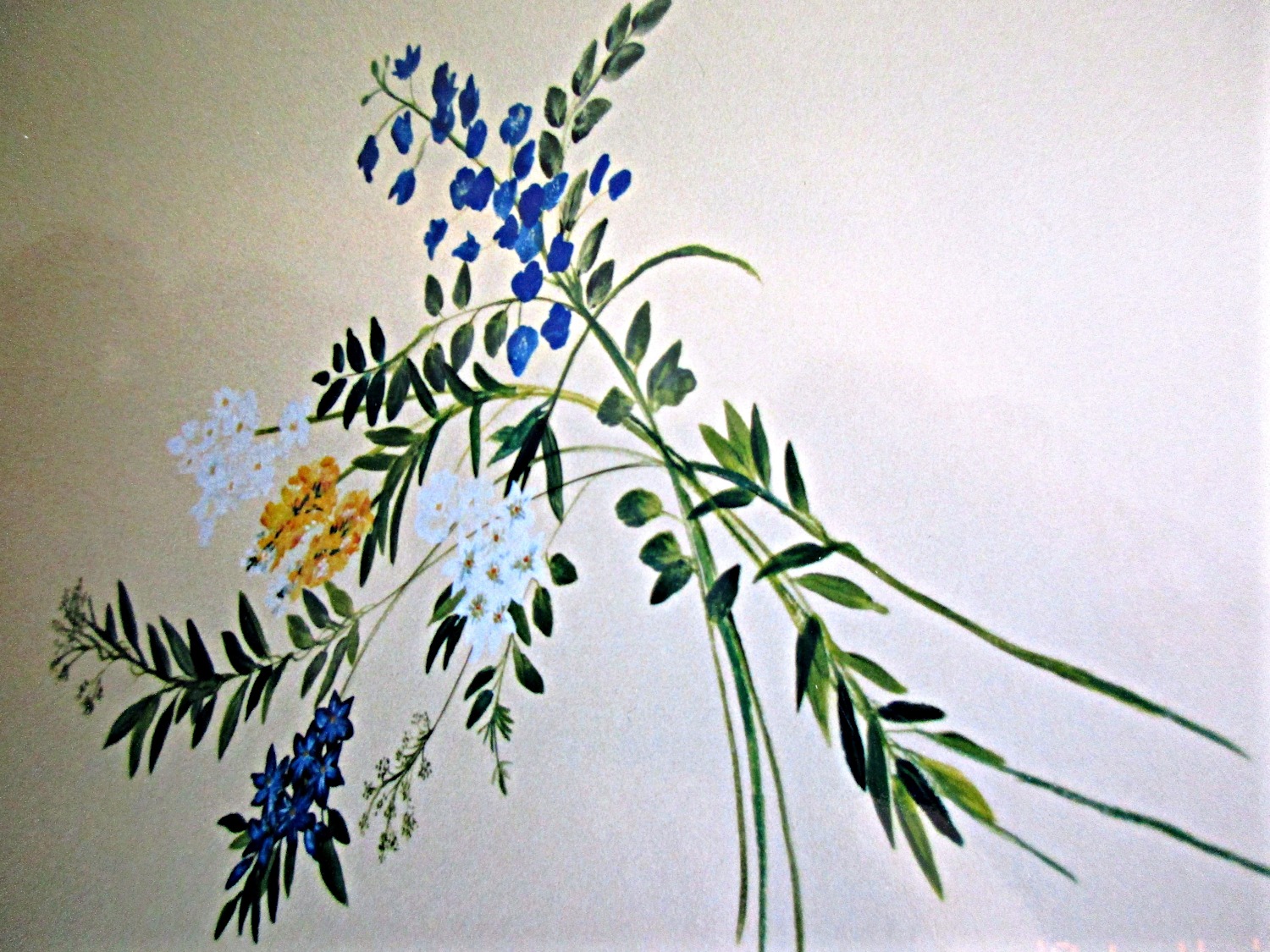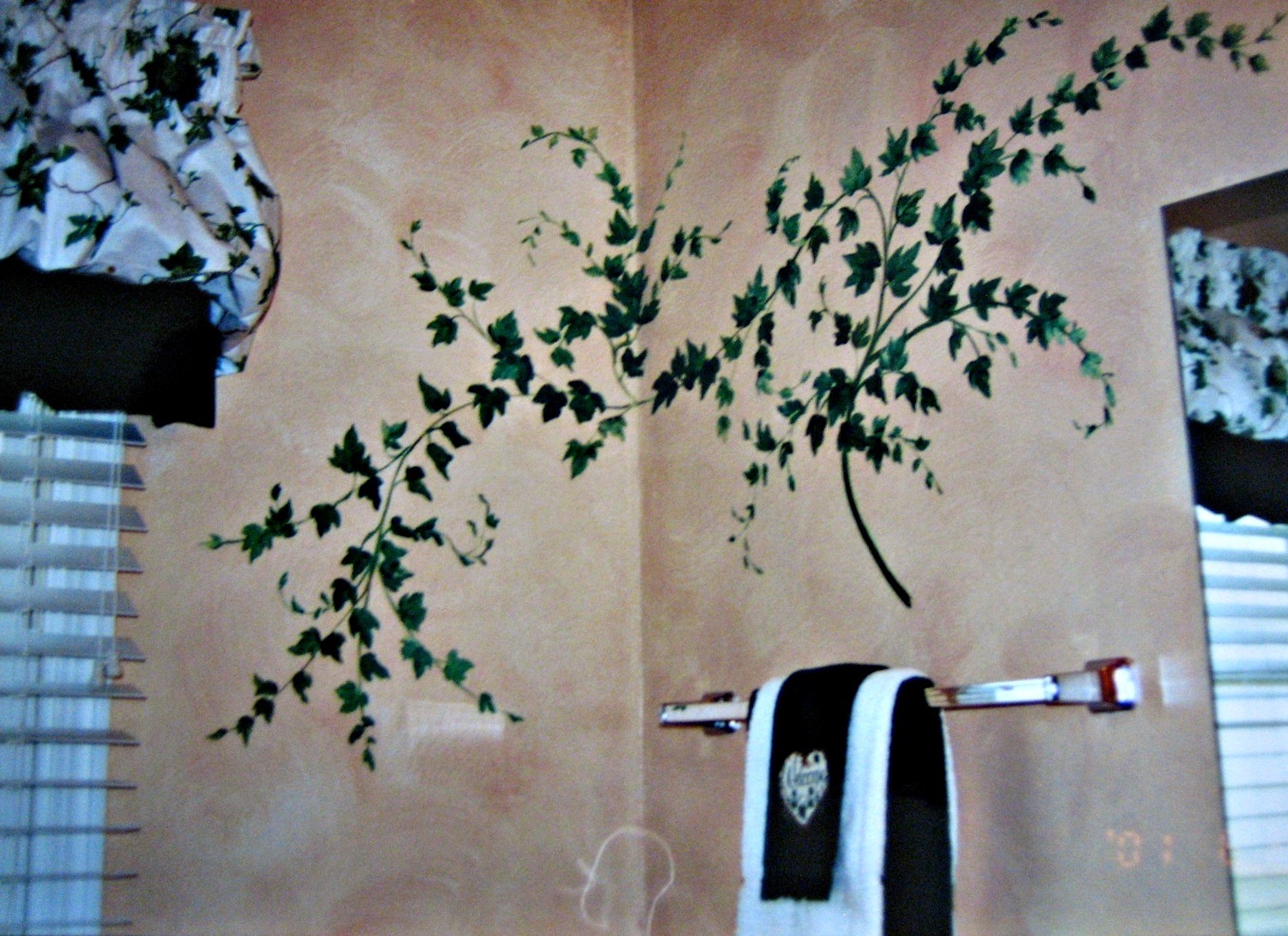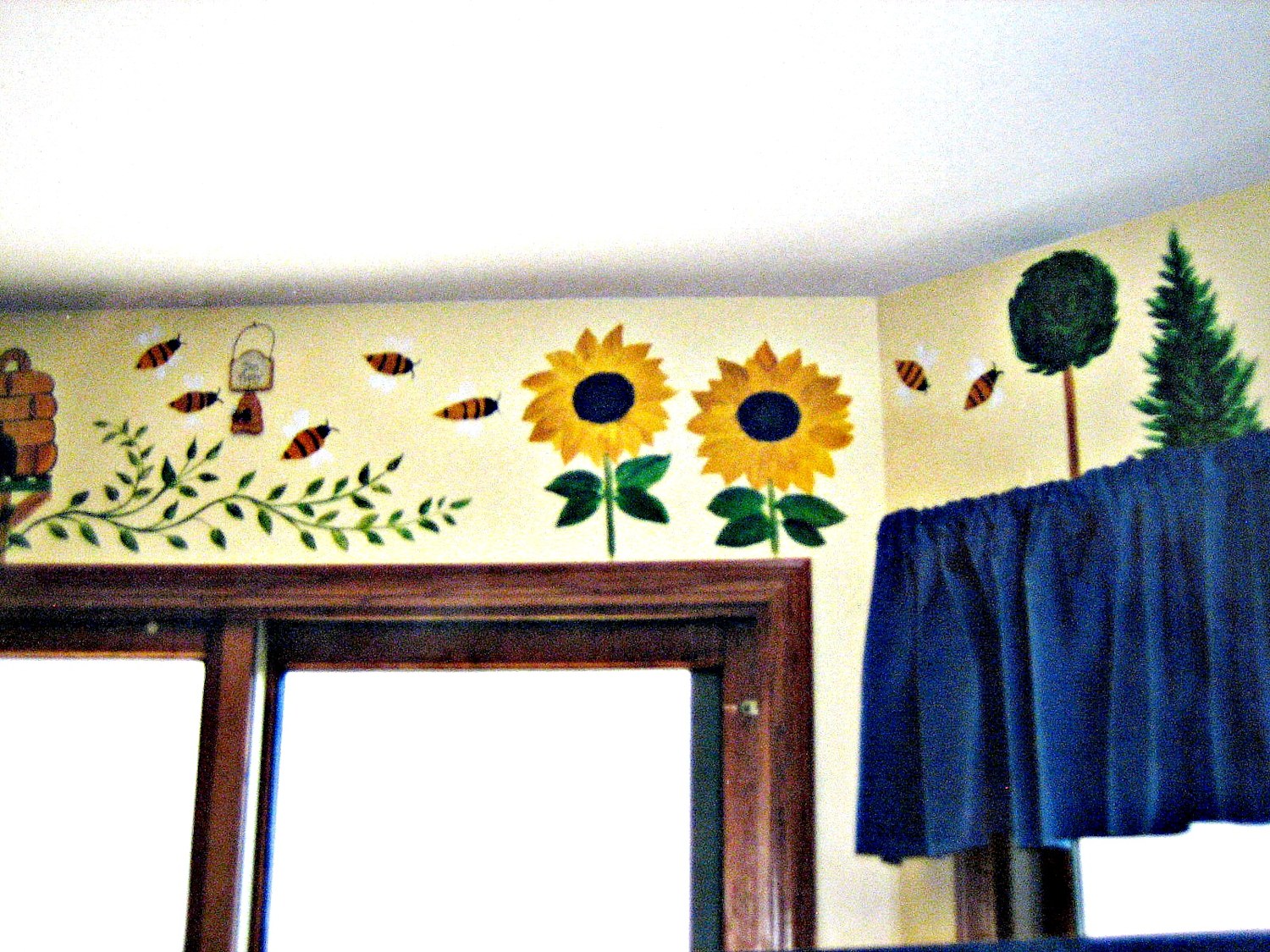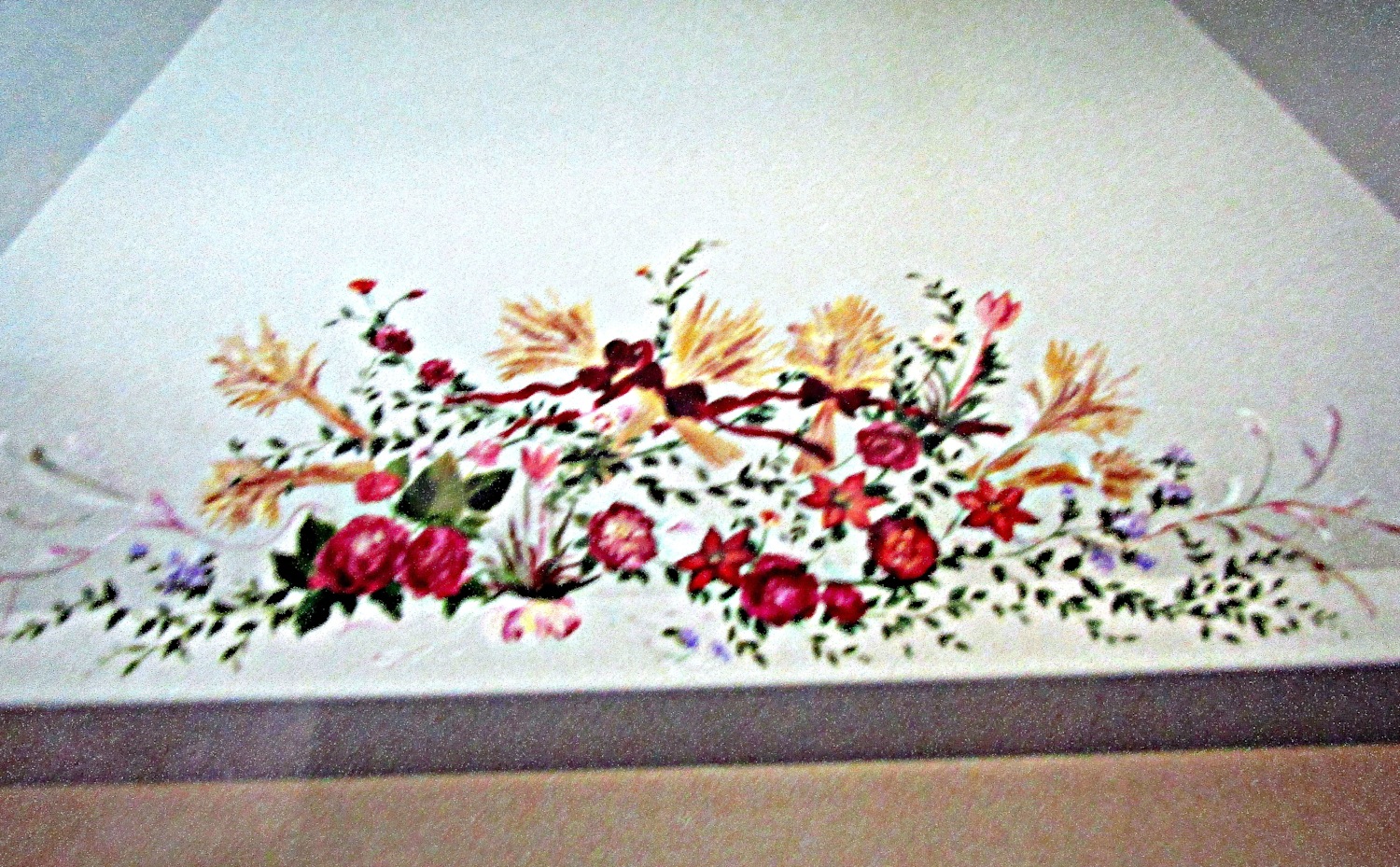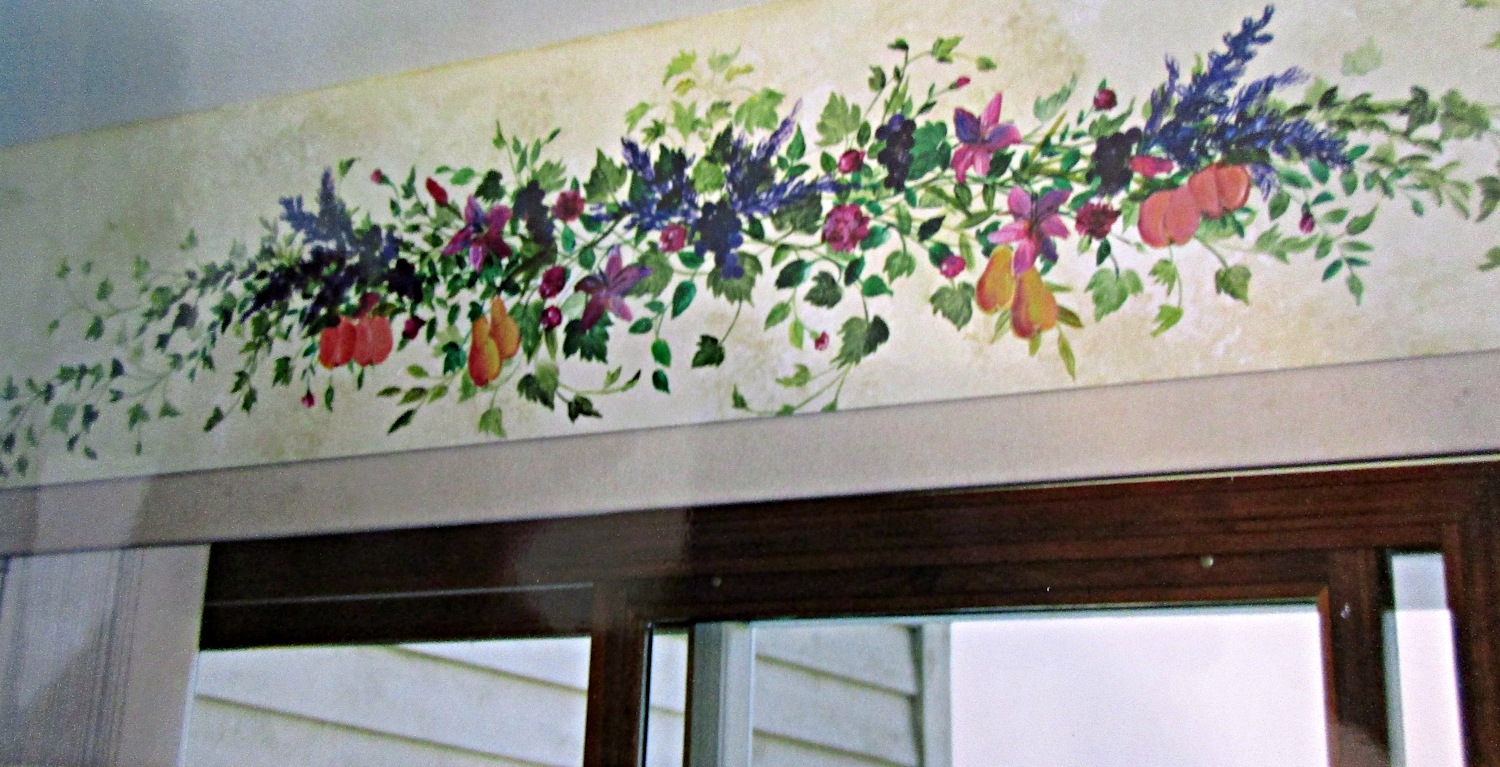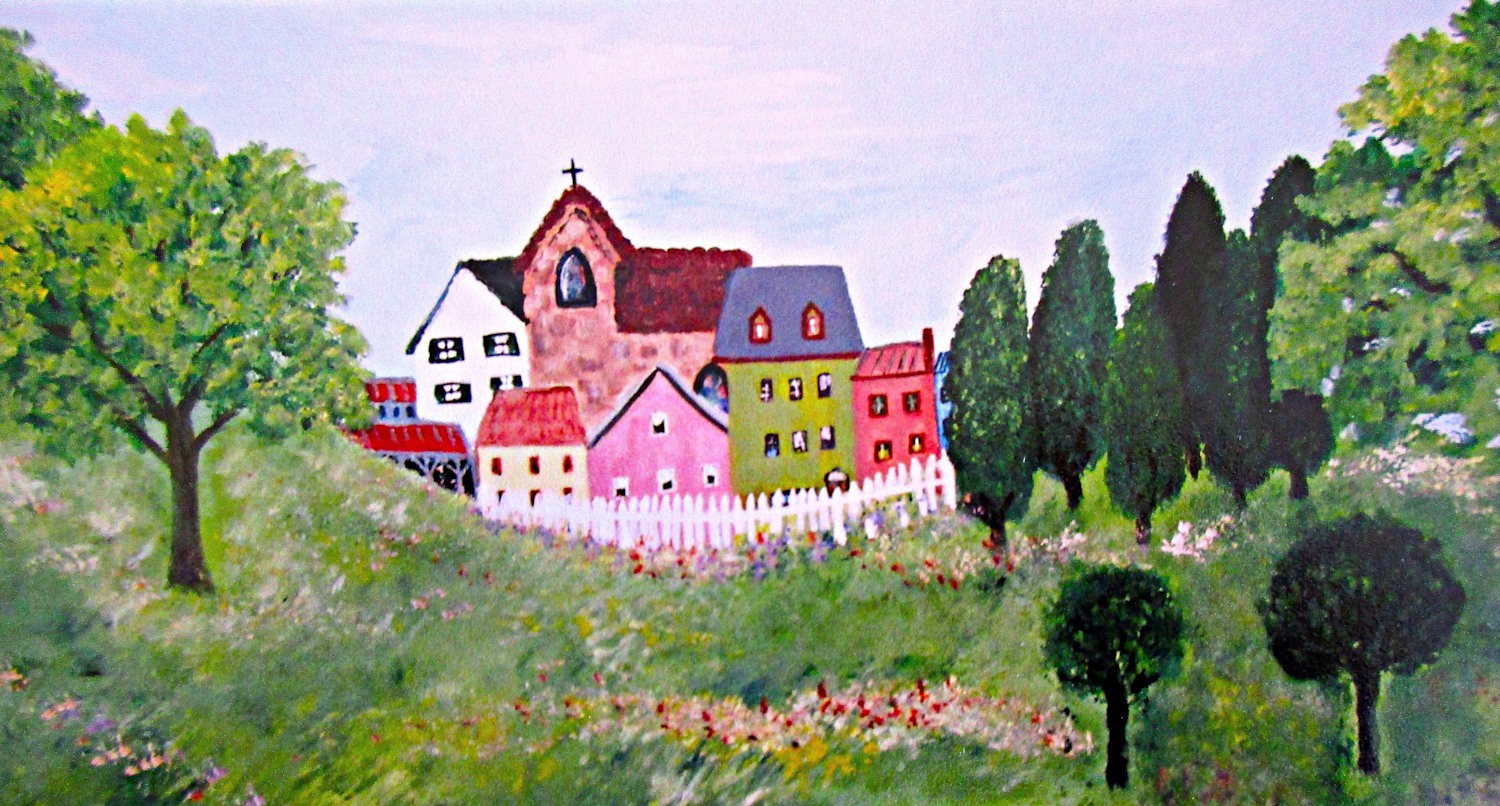 MY STORY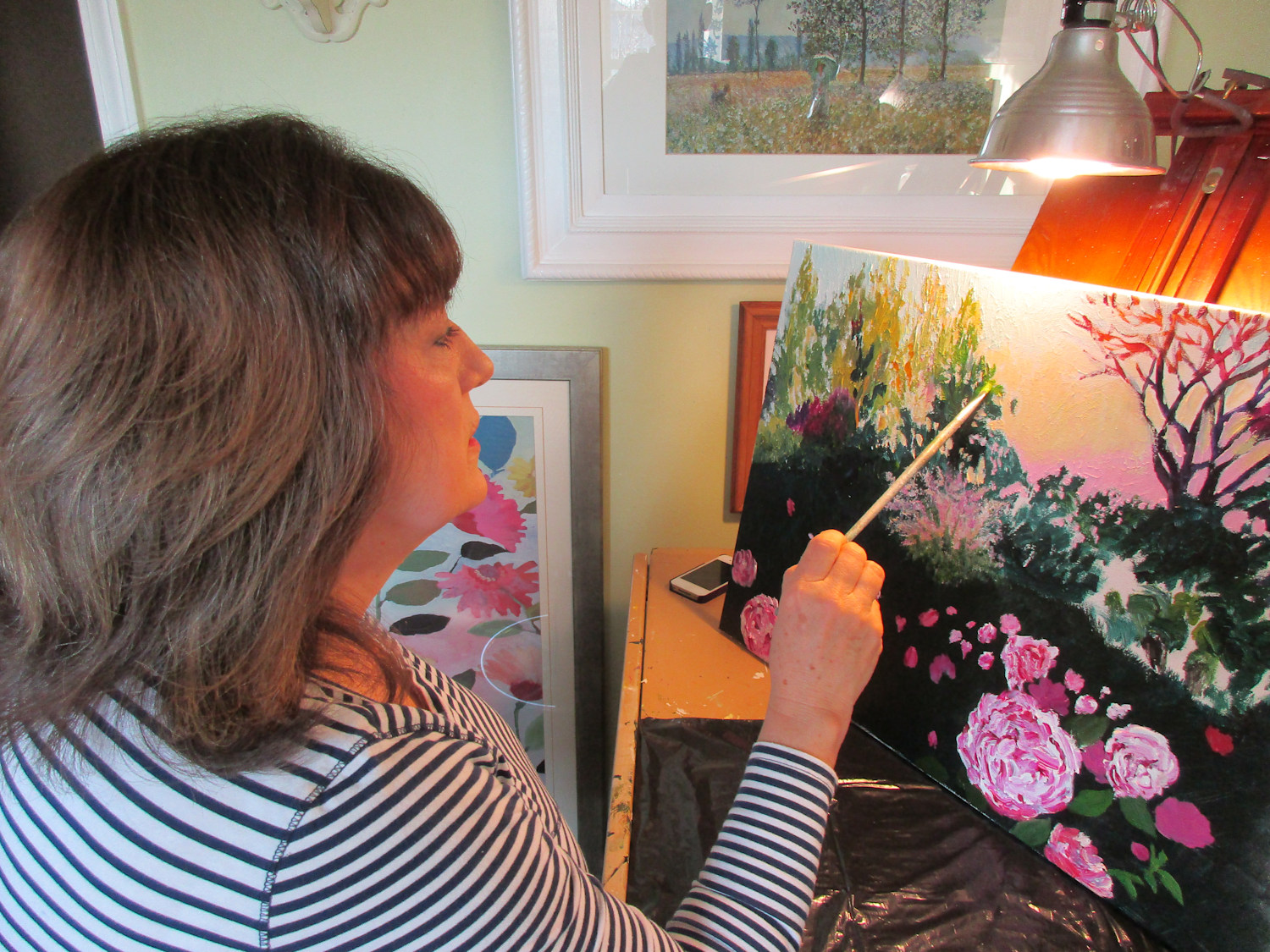 AT GRANDMA &
GRANDPA'S HOUSE
I am pictured here in my Grandparents backyard in Chicago. My Grandfather created the tire swing for me. I loved being outside in all seasons of the year in their big yard. In the warm weather I would follow my Grandfather around the yard with my toy lawn mower while he cut the grass. There were wonderful towering oaks and fruit trees in the yard and a big old owl that would hoot at us from one of the high branches. I still remember the beauty of that yard.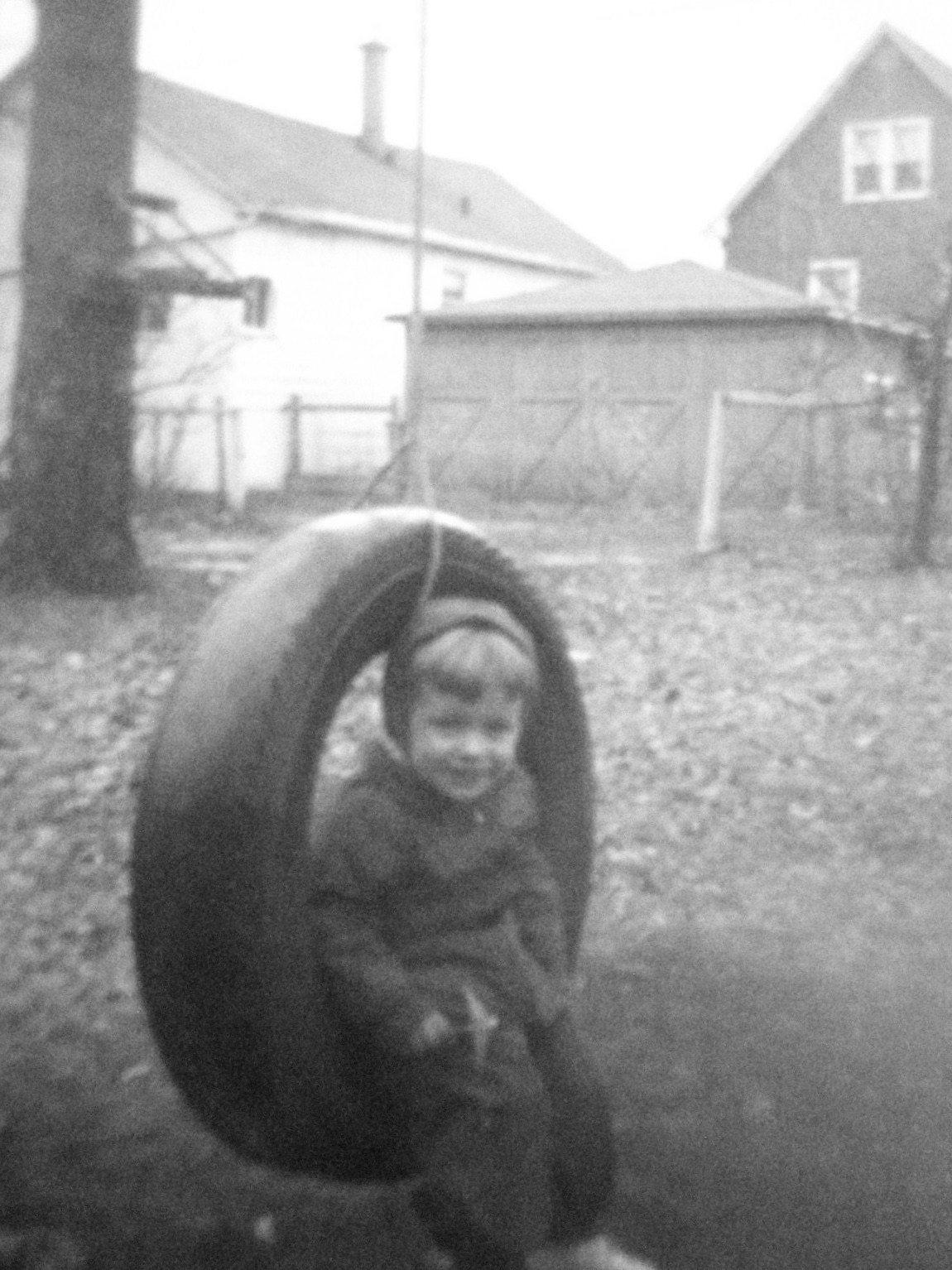 My story began when I was just a small child. I was always drawing, coloring, painting, or finding ways to create things out of colored construction paper using scissors and paste. Our family were all athletes and our household was filled with a great deal of activity, and everything revolved around sports. My two brothers were golfers, my older sister played racquetball, my younger sister was a snow skier, and I was an equestrian. I took riding lessons as an english hunter jumper. We did all kinds of other activities as well.
We played kickball in the street on summer nights, we built forts in the park across the street and played army or cowboys and indians, caught fireflies and saved them in a jar, and fed grasshoppers to the neighborhood cats. We took the hose out in the winter and flooded the backyard with water to freeze it and make our own ice skating pond.
We rode our bikes to the corner drug store to buy bags of penny candy, and went to "Luige's" for french fries and cokes on Saturdays. Luige made the best french fries in town so all of the kids would wind up there on Saturdays or at the Walgreens soda fountain.
We walked or rode our bikes to the neighborhood park to go swimming all day in the summertime. I was on a bowling league in grade school, went to the lagoon in the winter to ice skate, or we skated on the nearby river.
I played tennis and soccer, joined the girls basketball team, and did gymnastics in high school. My Dad was a basketball coach so he would draw diagrams with pencil on paper and show us how the plays worked. My Dad was also an excellent golfer so we would shave a portion of the lawn in the back yard to serve as the putting green, wash a soup can and sink it into the ground to serve as the hole and have "putting practice."
MY CHILDHOOD ART
When I was in grade school one year my Mom and Dad bought me an Artist's Oil Paint Set for Christmas. It was a wooden case with all of the supplies inside that I needed to do oil paintings. The case contained oil paint tubes in many colors, turpentine, linseed oil, a pallet, canvas paper, brushes and even pallet knives. I had so much fun with that set! I also liked to draw scenes from our neighborhood on paper and color them with crayons.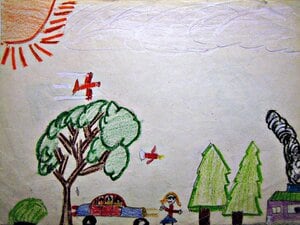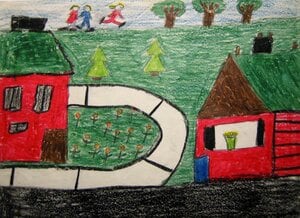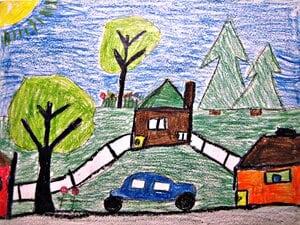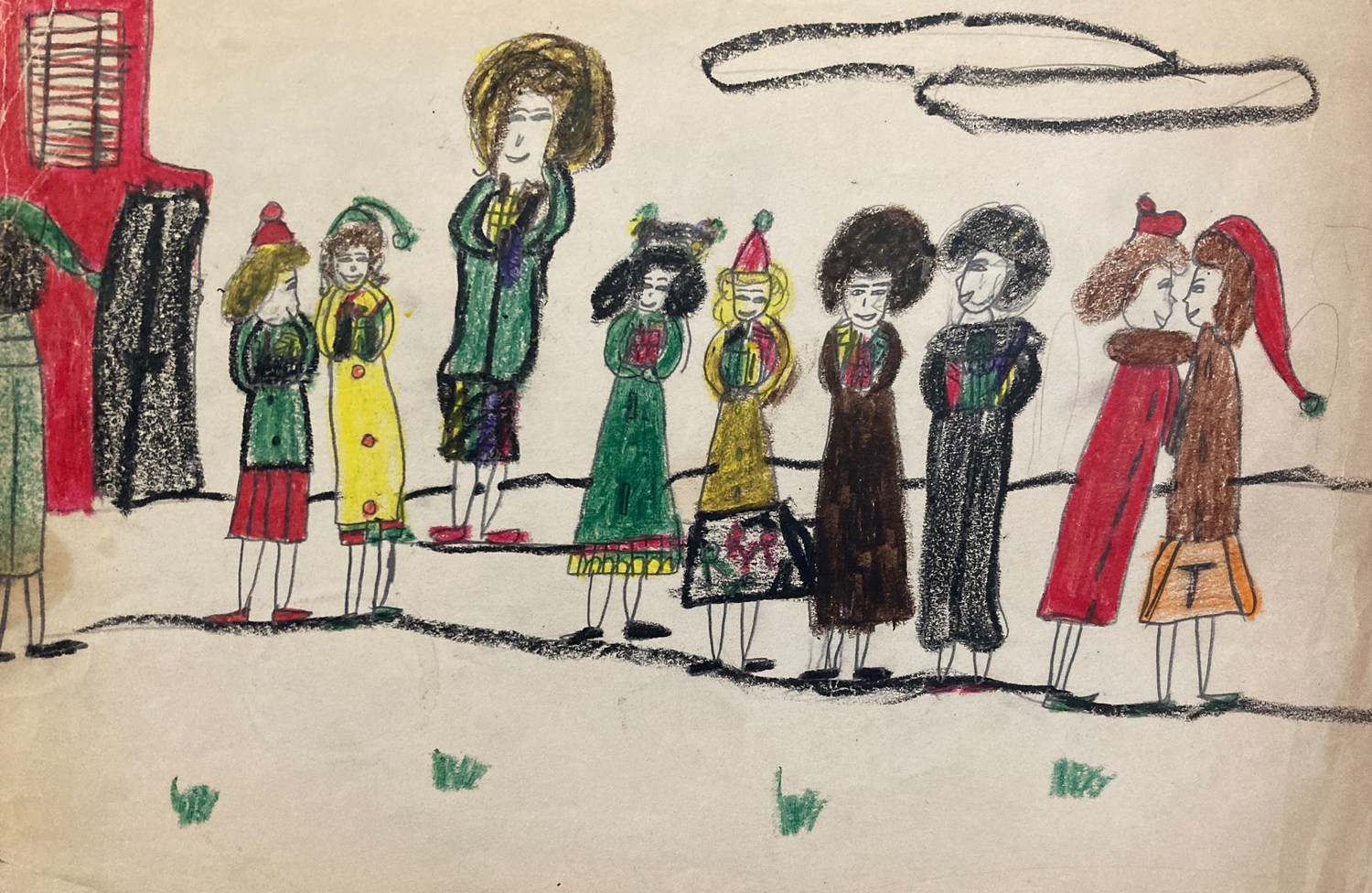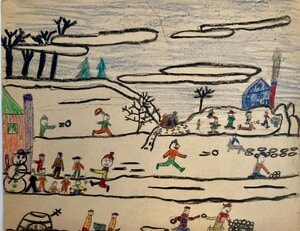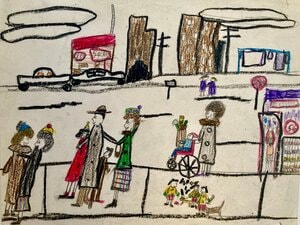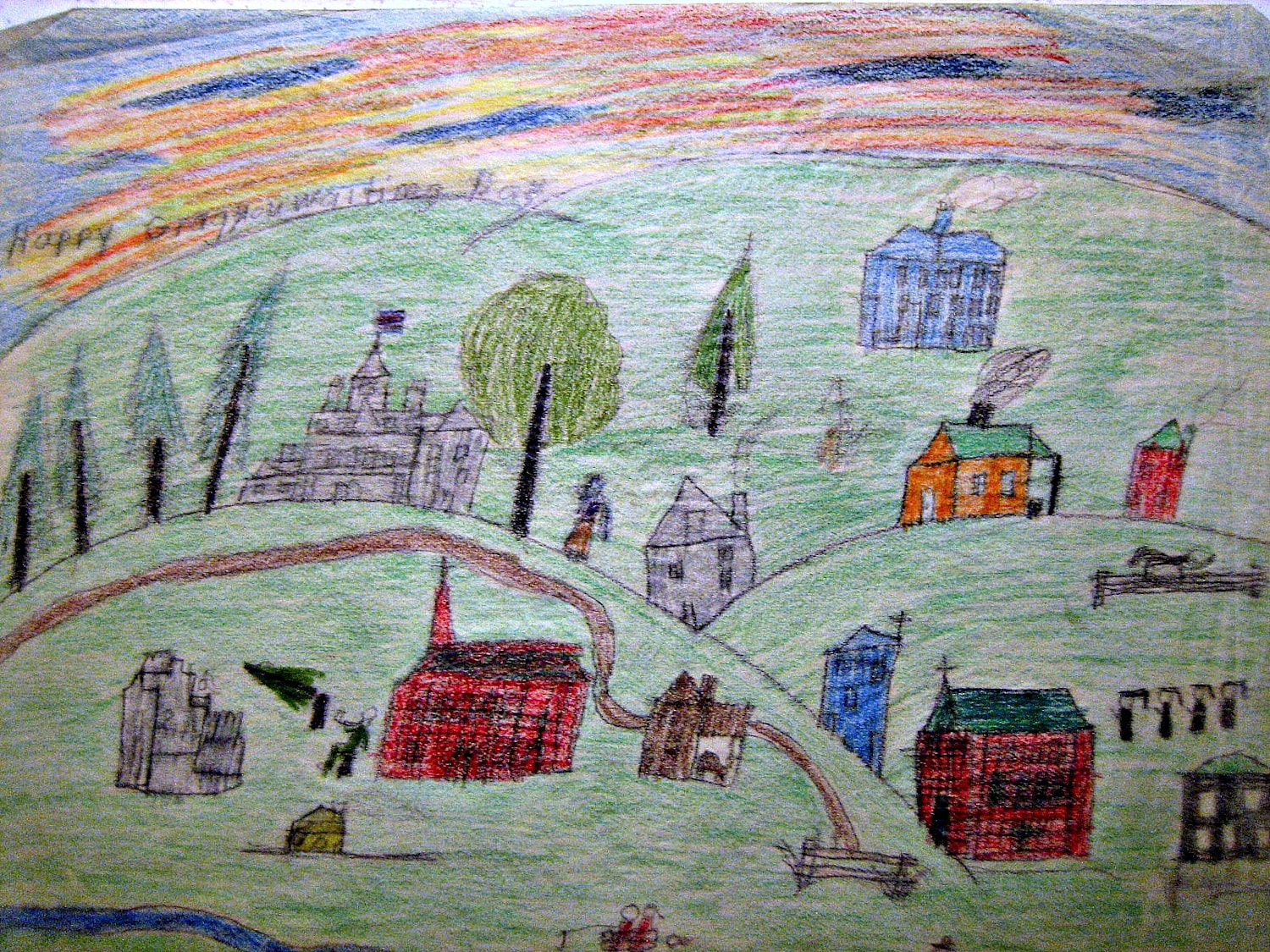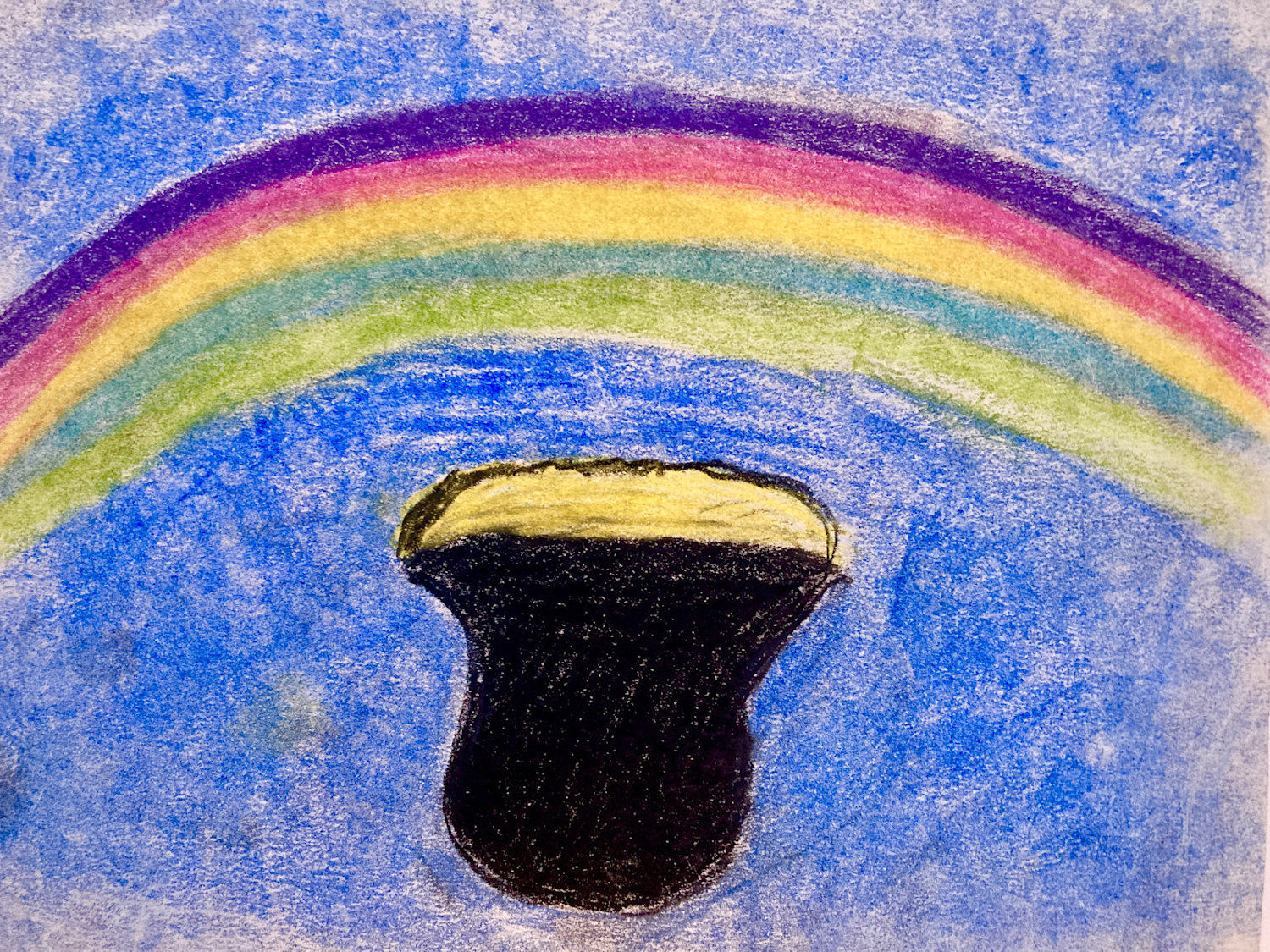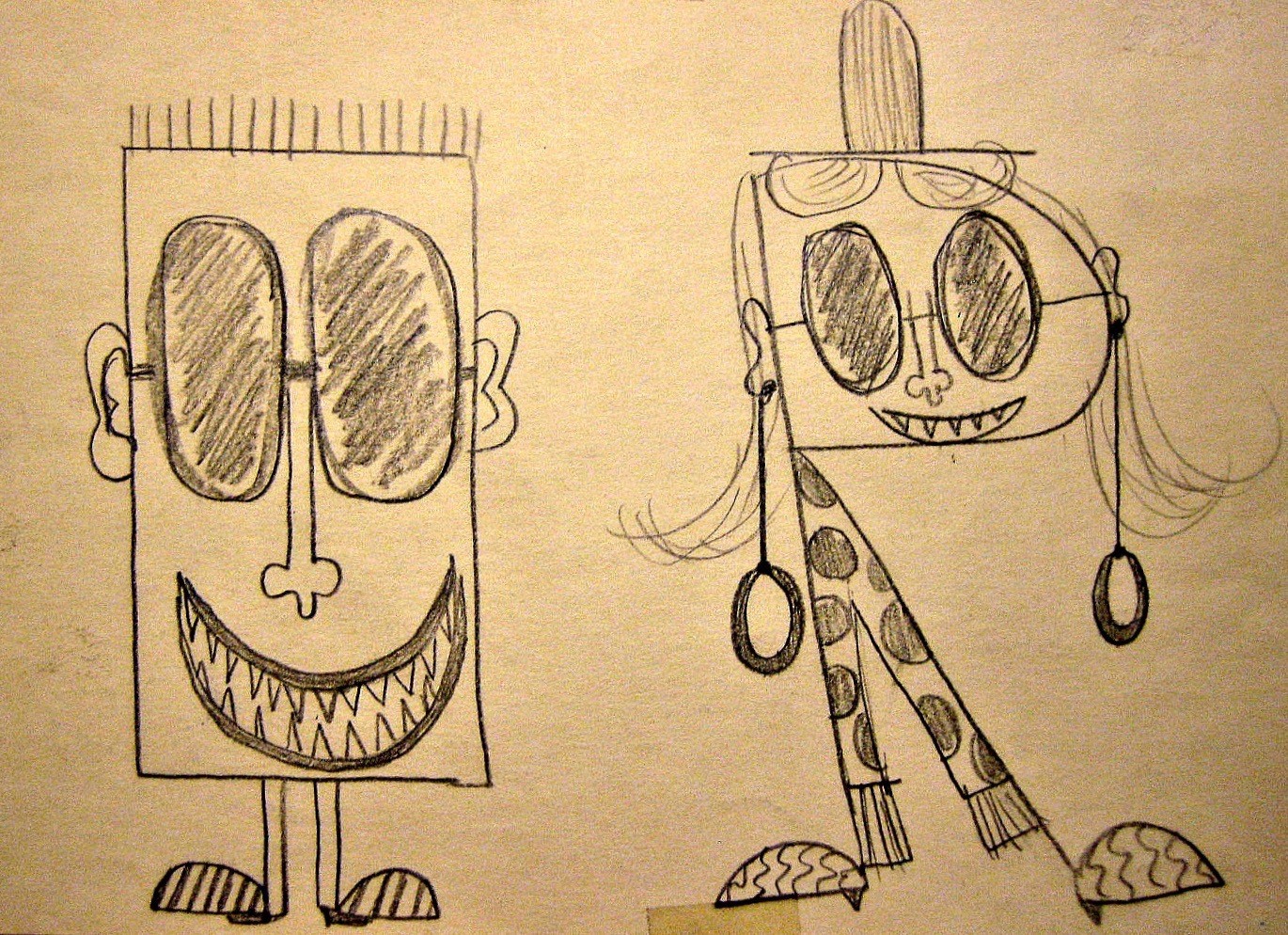 One day one of my teachers in grade school had us make a drawing from our first and last initials. This is the drawing that I did.
This passion to create beauty and work with color has taken on many forms for me. In high school my classes included drawing, painting, and design crafts including spinning clay pottery, jewelry making, silk screen printing, and tye-dye. My interior design class was fascinating to me as we learned all of the elements of the interior and exterior of a home, the styles of roofs, facia, doors, windows and shutters. One of our assignments was to create an interior of a house by cutting out pictures of decor elements and furniture from magazines using the pieces to decorate and furnish each room in a notebook. I really enjoyed that assignment, and it was fun seeing the end results. I enjoyed all of my art classes so much. At home my mother was always adding decorative touches to our home and she included me in the process. She taught me to knit and crochet, arrange flowers, to cook, clean and take care of the home. Later at home, I started with a friend making my own candles with paraffin and melted crayons. When my Mom and I were driving through town she would often point out to me all of the beautiful homes gardens and yards, bringing my attention to them. She was a school teacher and she was aware of my artistic gift, so she always encouraged me to develop it.
As time went on and my husband Mike and I met and were married, while I was raising our two sons Ryan and Carl I had precious little time to paint, but I squeezed in my pursuit as much as possible. While the kids were at school during the day I would often go out shopping scouring the thrift shops looking for things to paint. I often bought a framed print, brought it home, took it apart, washed the glass, painted or refinished the frame and created a new painting for it. I replaced or painted the matte and put it all back together again as a brand new art piece and hung it on a wall in our home.
THE ARBORETUM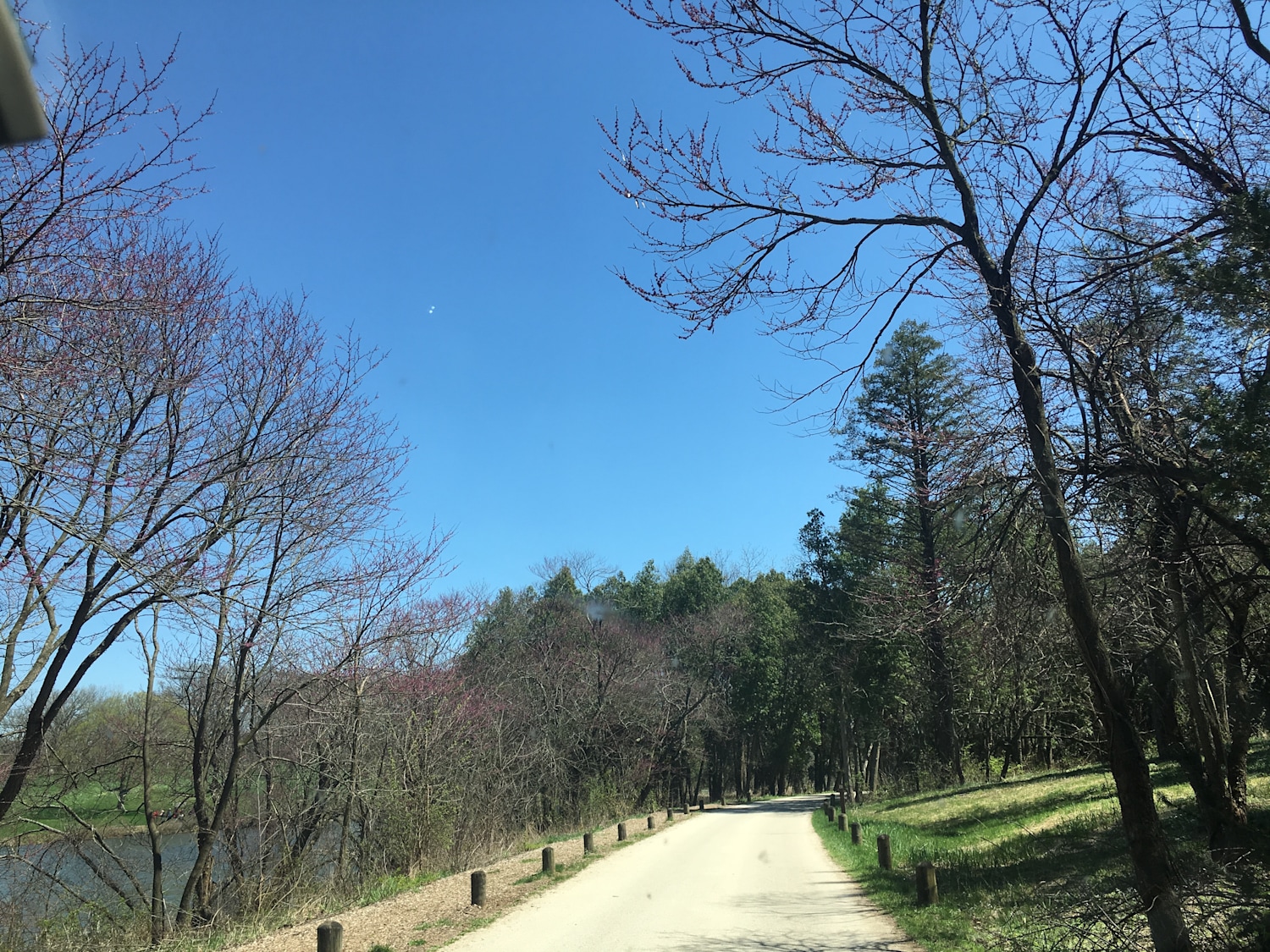 During high school I spent many Saturdays with my group of artist friends at our local Arboretum hiking the trails through this beautiful tree museum. My husband Mike and I would go there every season of the year enjoying winding roads through towering forest trees, lakes, the river, and endless fields of gorgeous plants and wildflowers. I took many photos there and I have found inspiration for my artwork from the photos, but I rarely copy them, I usually put my own twist on them to get them to look the way that I want them to look.

Here is a photo of me at the barn for one of my riding lessons.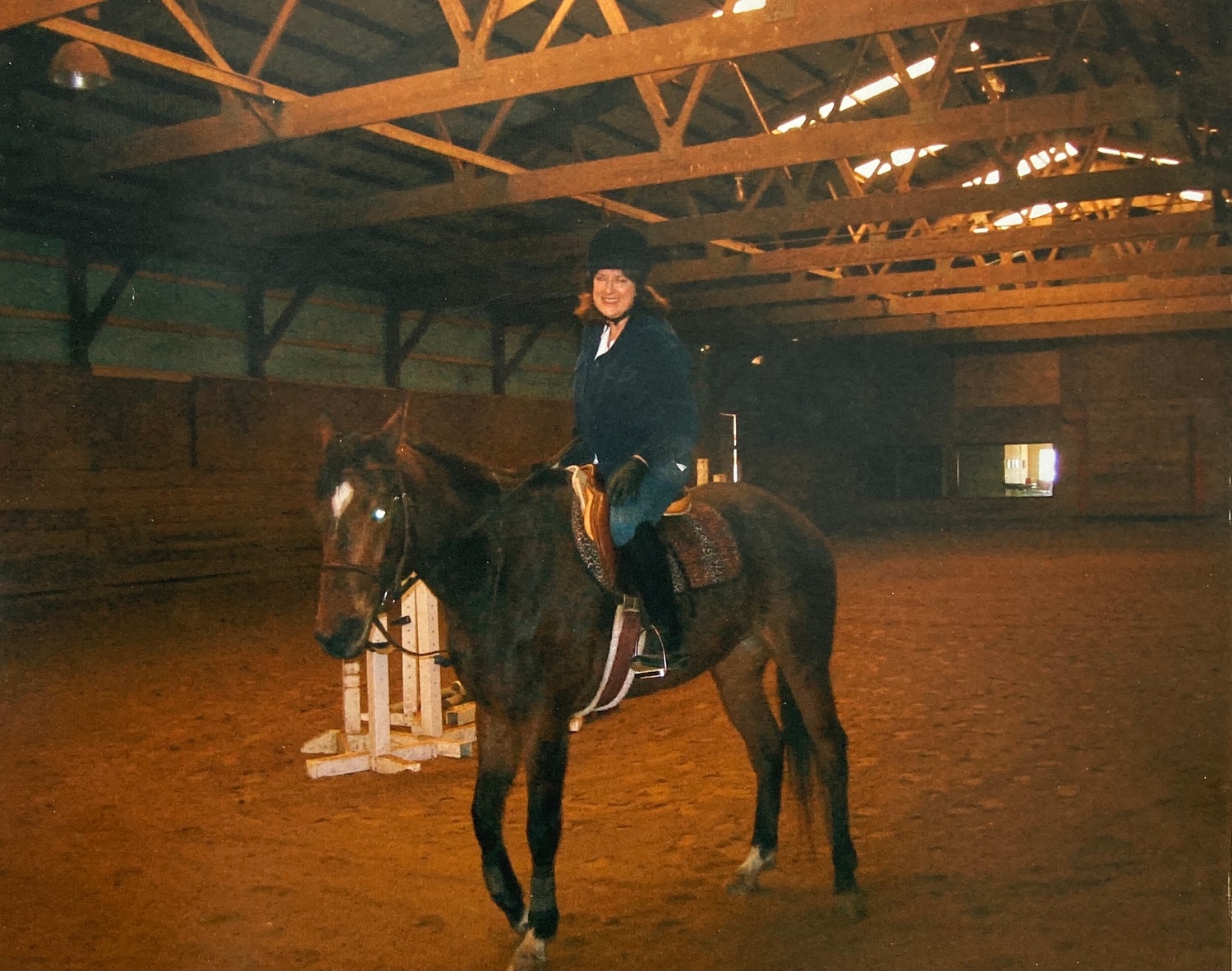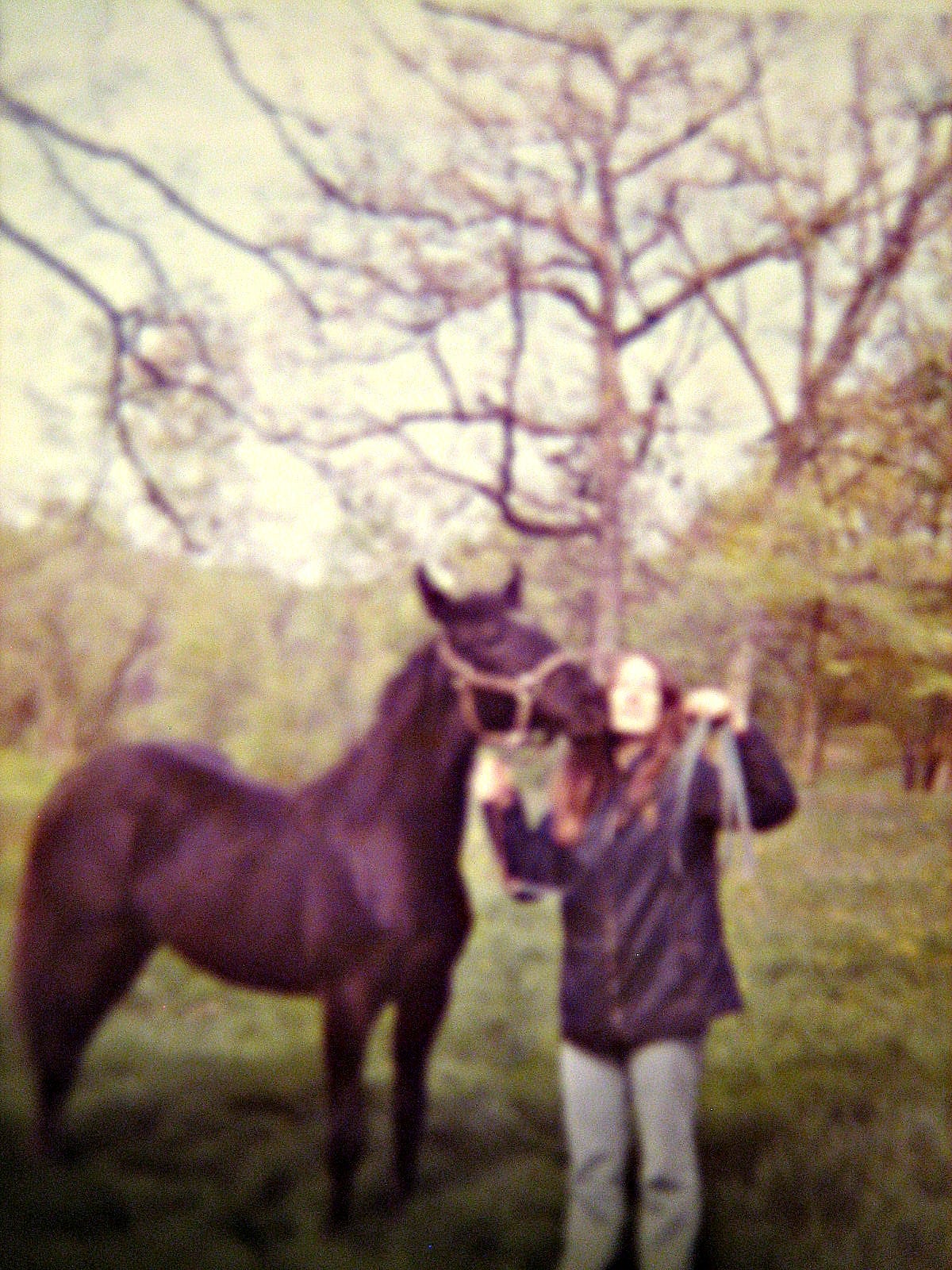 This is me with my own horse at the barn out in the pasture under the trees.
This passion to paint has lead me to paint walls, flower pots, wood, masonite, lamps, decor pieces, fabric and furniture. One time I even painted our couch! It was a light cream colored canvas like fabric with a stain on one of the arms, so I just painted a red flower pattern all over it. My husband and sons poked fun at me for months about it but I didn't care because I was just having so much fun experimenting with paint! I have decorated all of the apartments and homes we have lived in including making curtains and throw pillows, creating flower arrangements, hanging art on the walls, choosing paint colors, painting walls, and figuring out furniture placement. It has been quite an adventure in creativity but my favorite art form is painting with acrylics on canvas.
I CONSIDER ART FOR ME TO BE A HEALTHY OBSESSION
BEING BUSY CREATING BEAUTY FOR OTHERS IS A SWEET OCCUPATION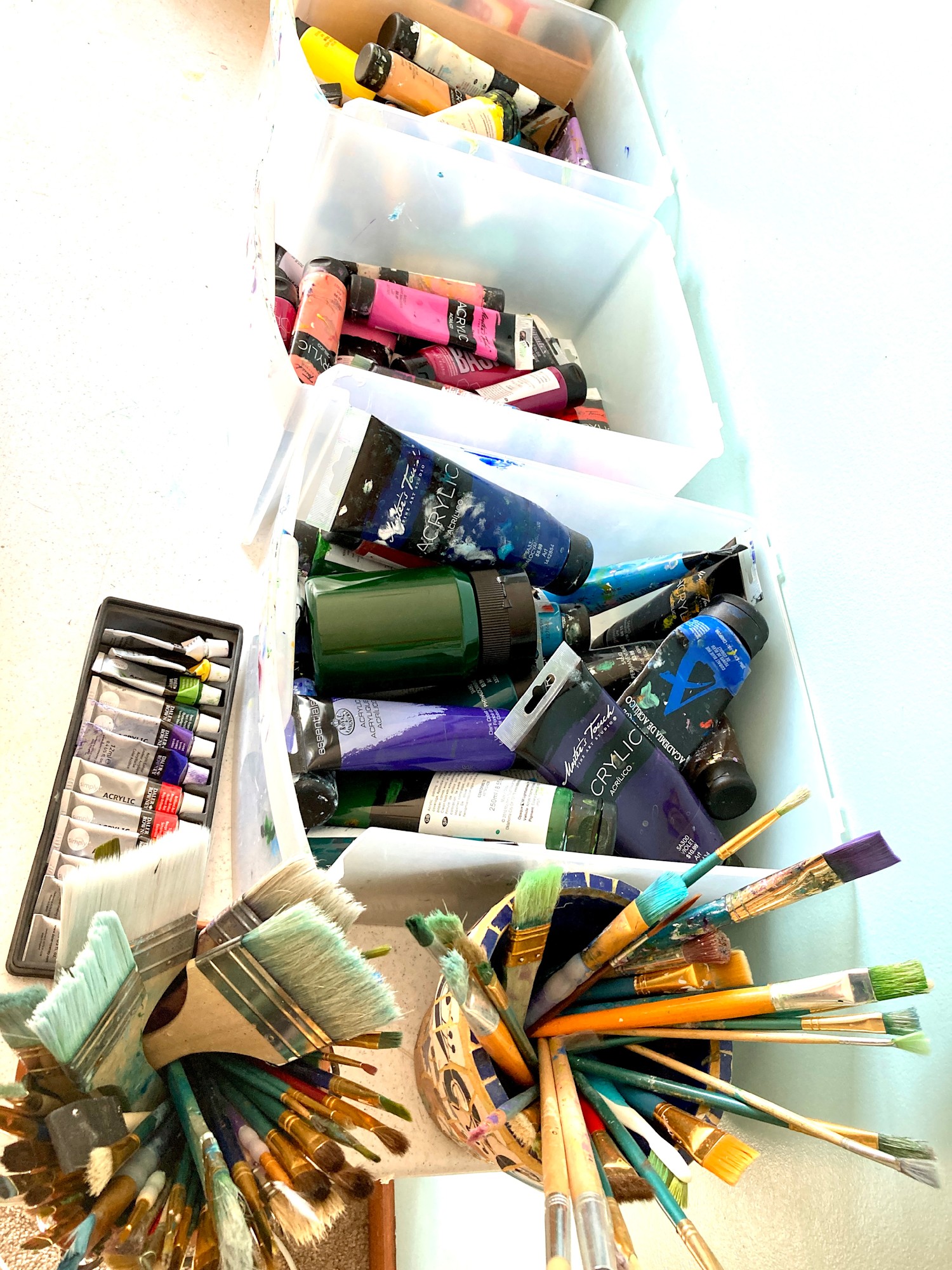 MY FIRST ART EXHIBIT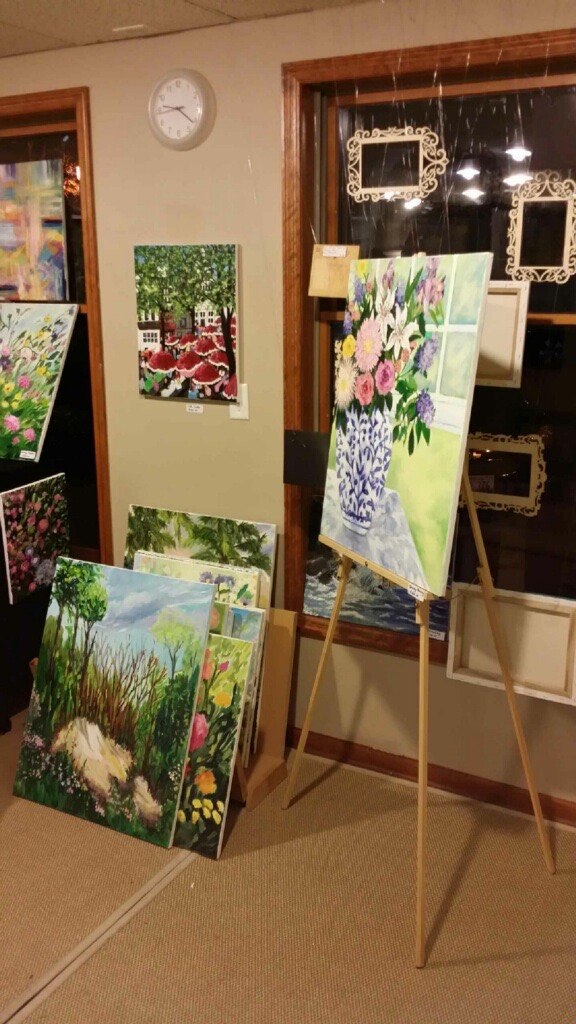 I SOLD 4 PAINTINGS!
I have since won awards for my work including online.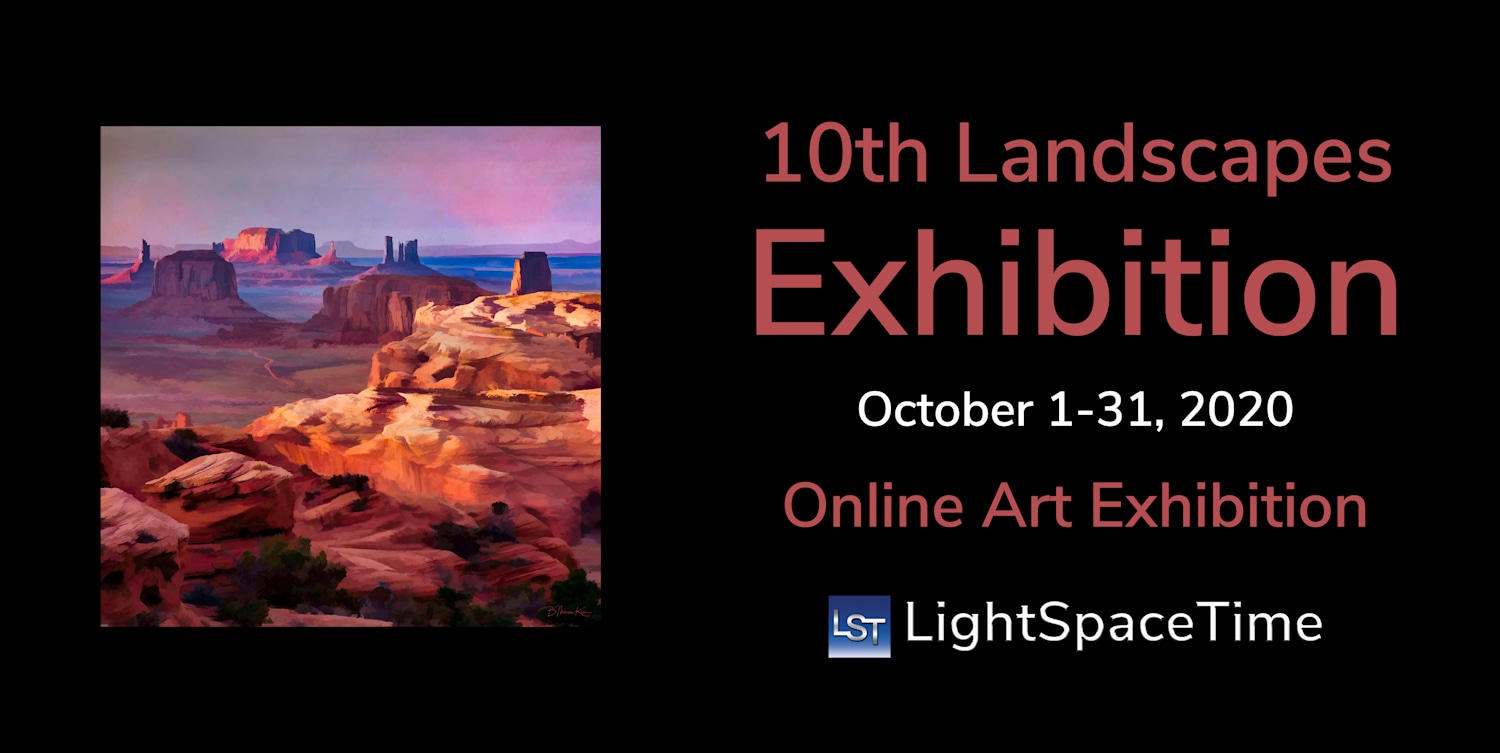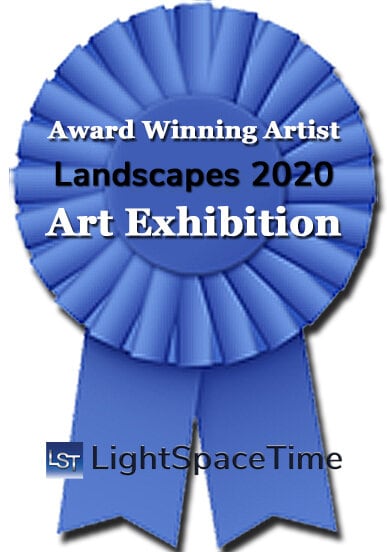 They sent me this blue ribbon with this description ~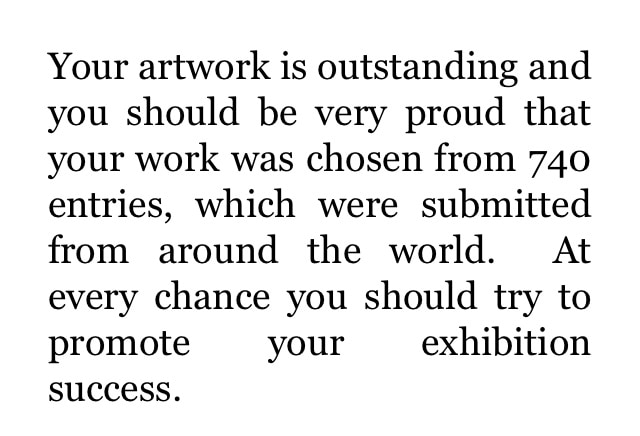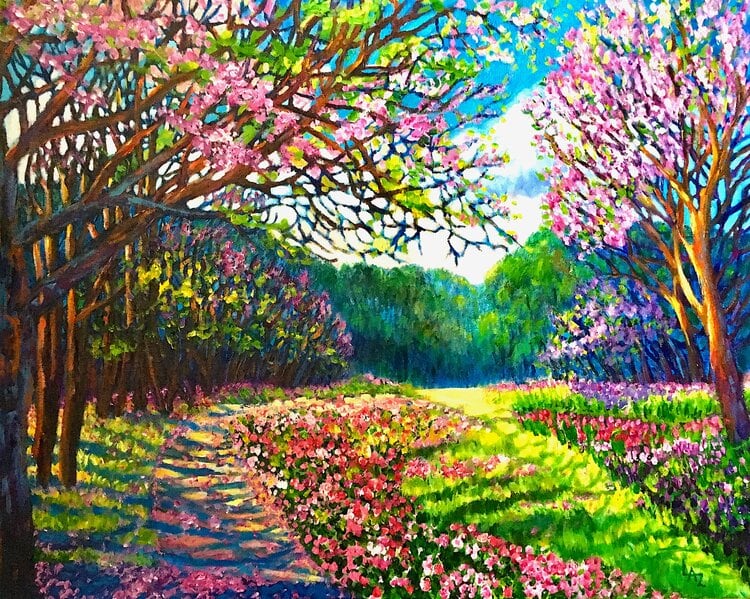 This is the painting that Light Space & Time Awarded me for entitled "MOUNTAIN SPRING"
I received awards for these two paintings at The Naperville ART CENTER GALLERY
NAPERVILLE, ILLINOIS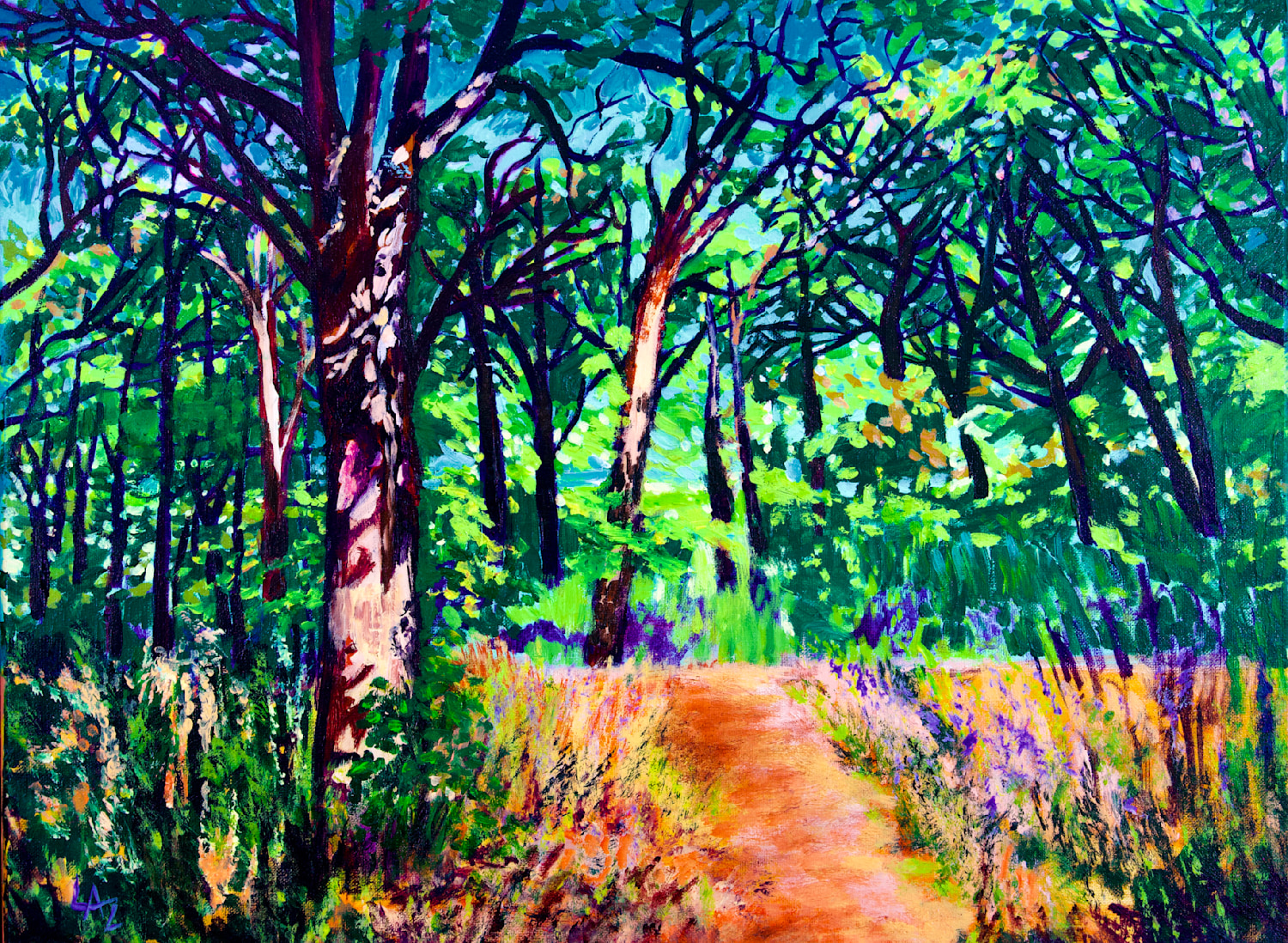 "JOLIET TRAIL"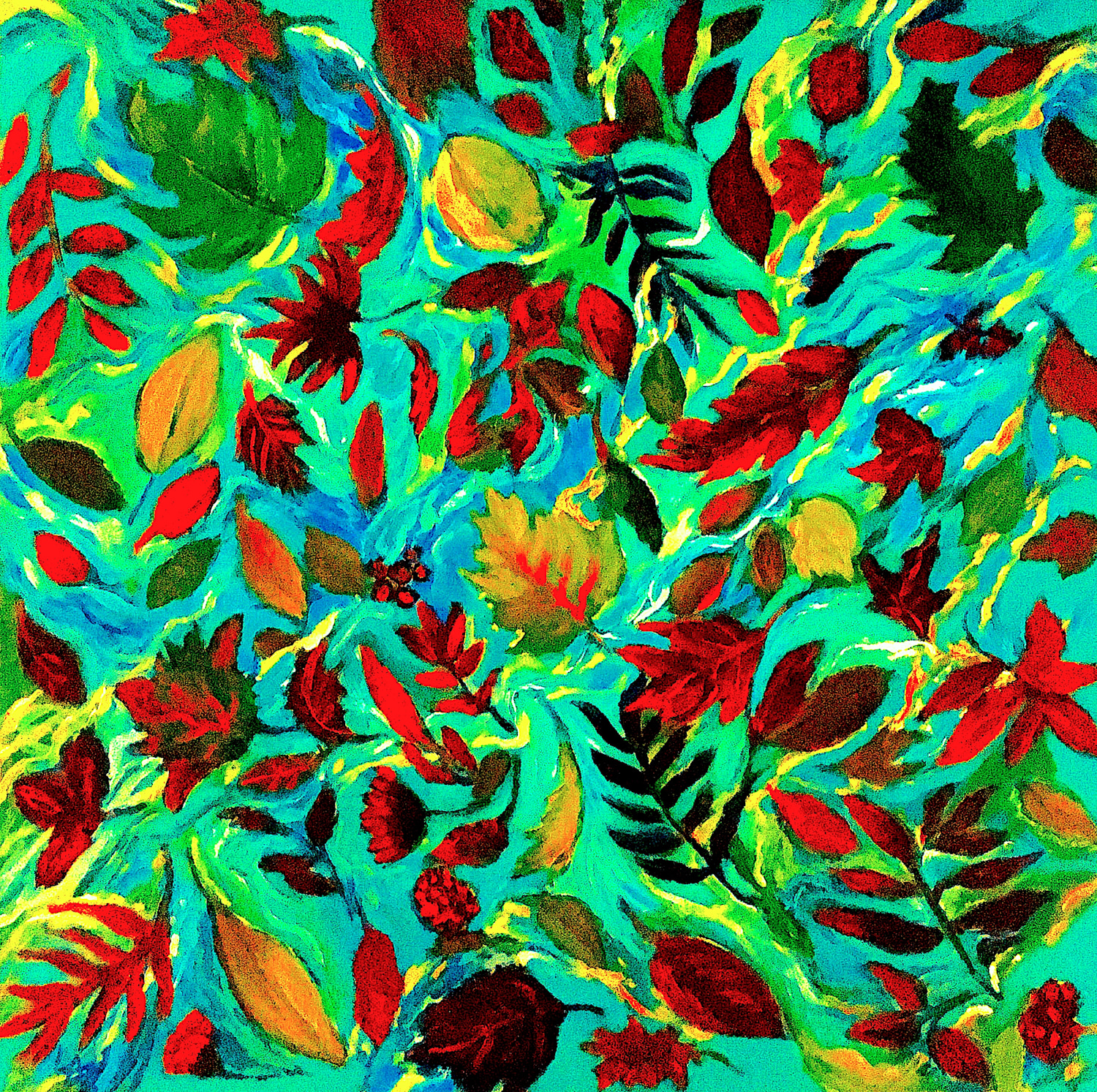 "RIVER PARADE"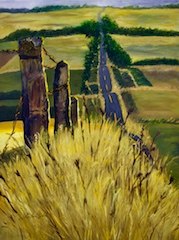 2022 ART SHOW INTERNATIONAL GALLERY TALENT PRIZE AWARD ~ FOR MY PAINTING
"THE ROAD OF LIFE"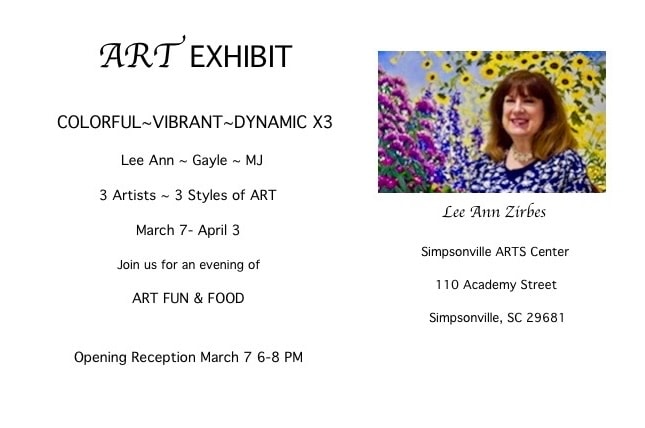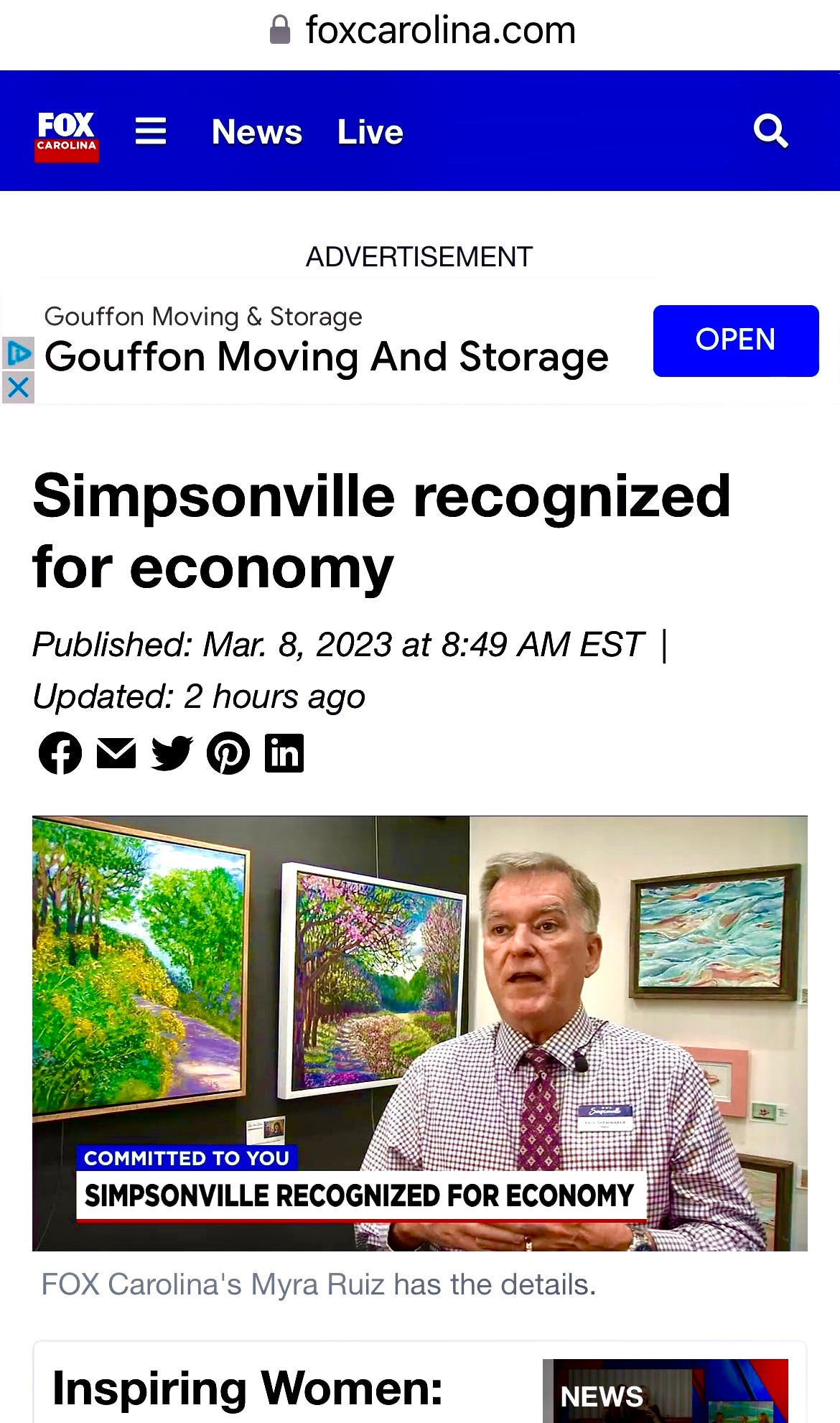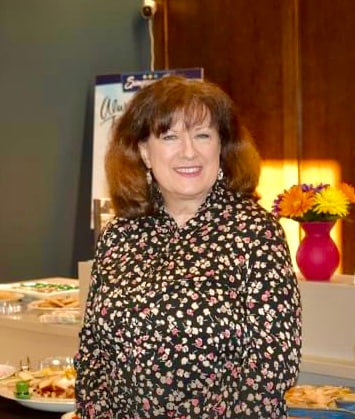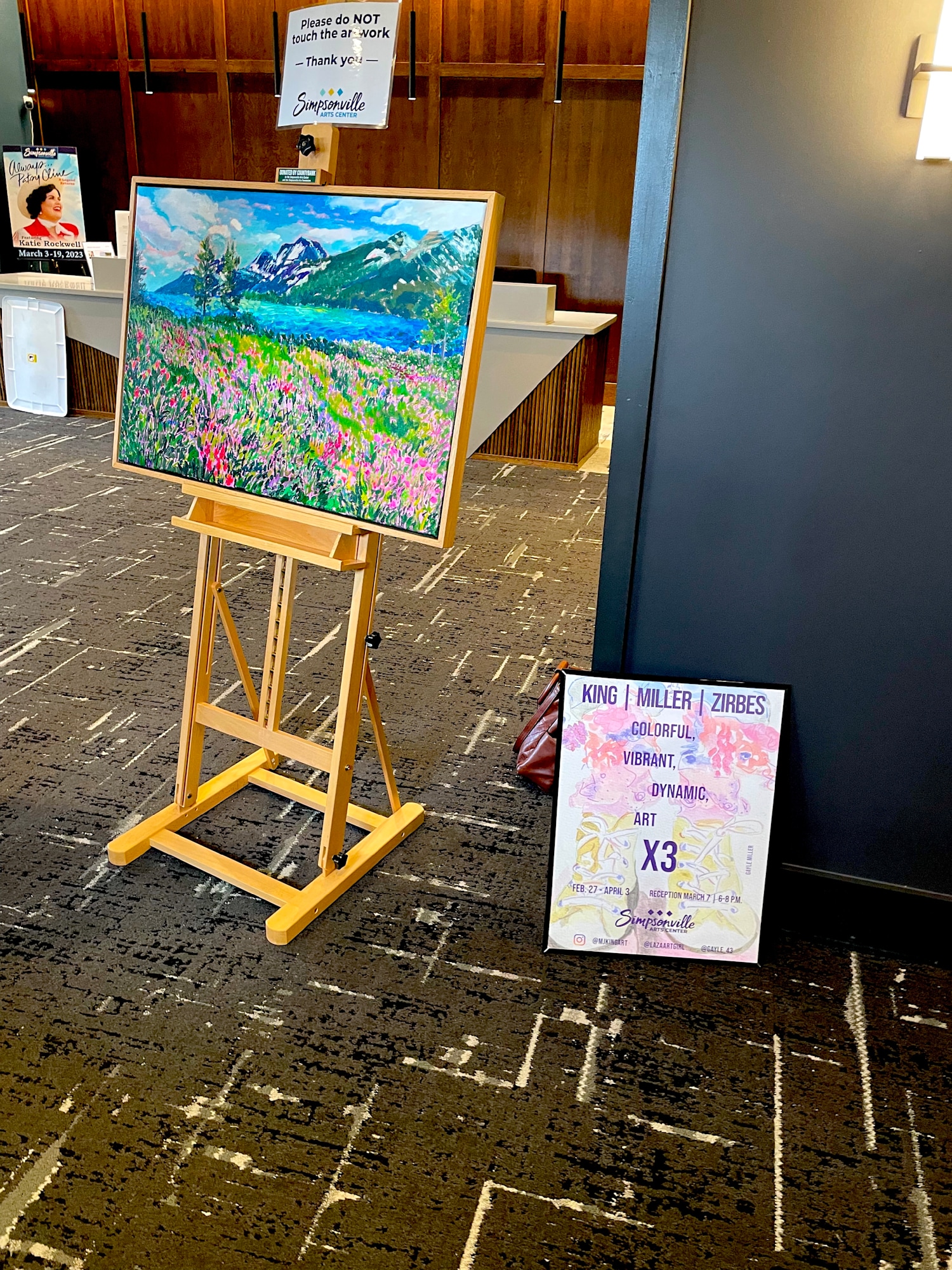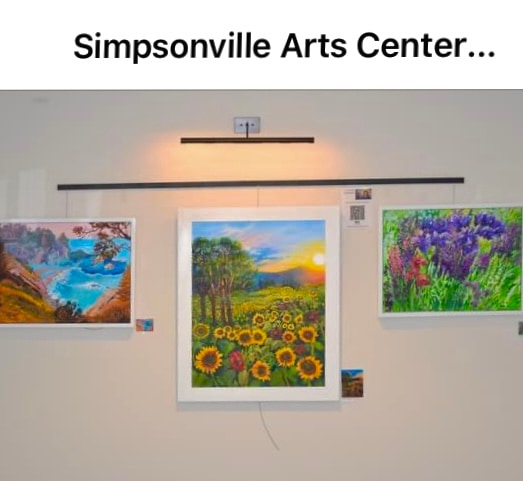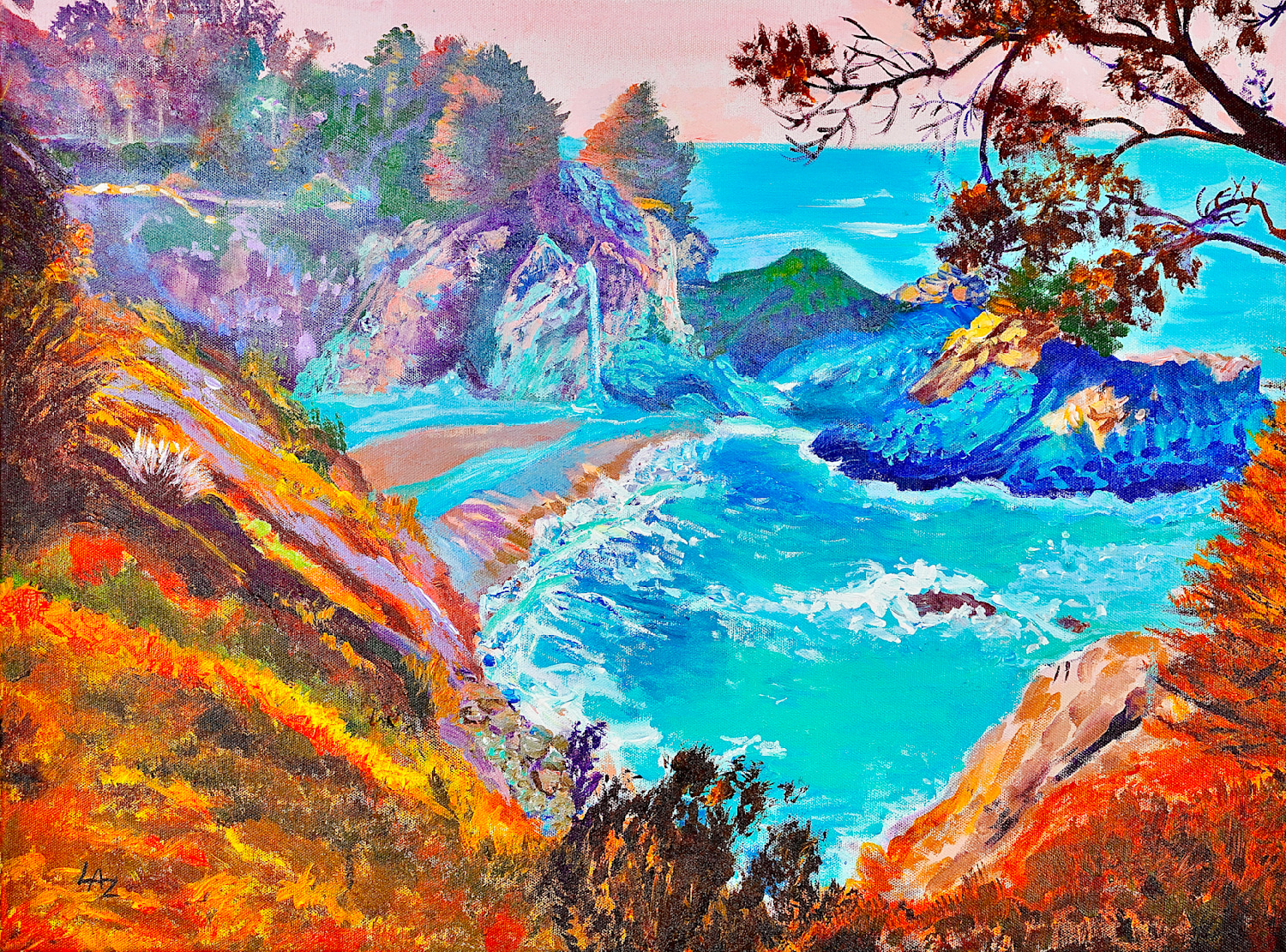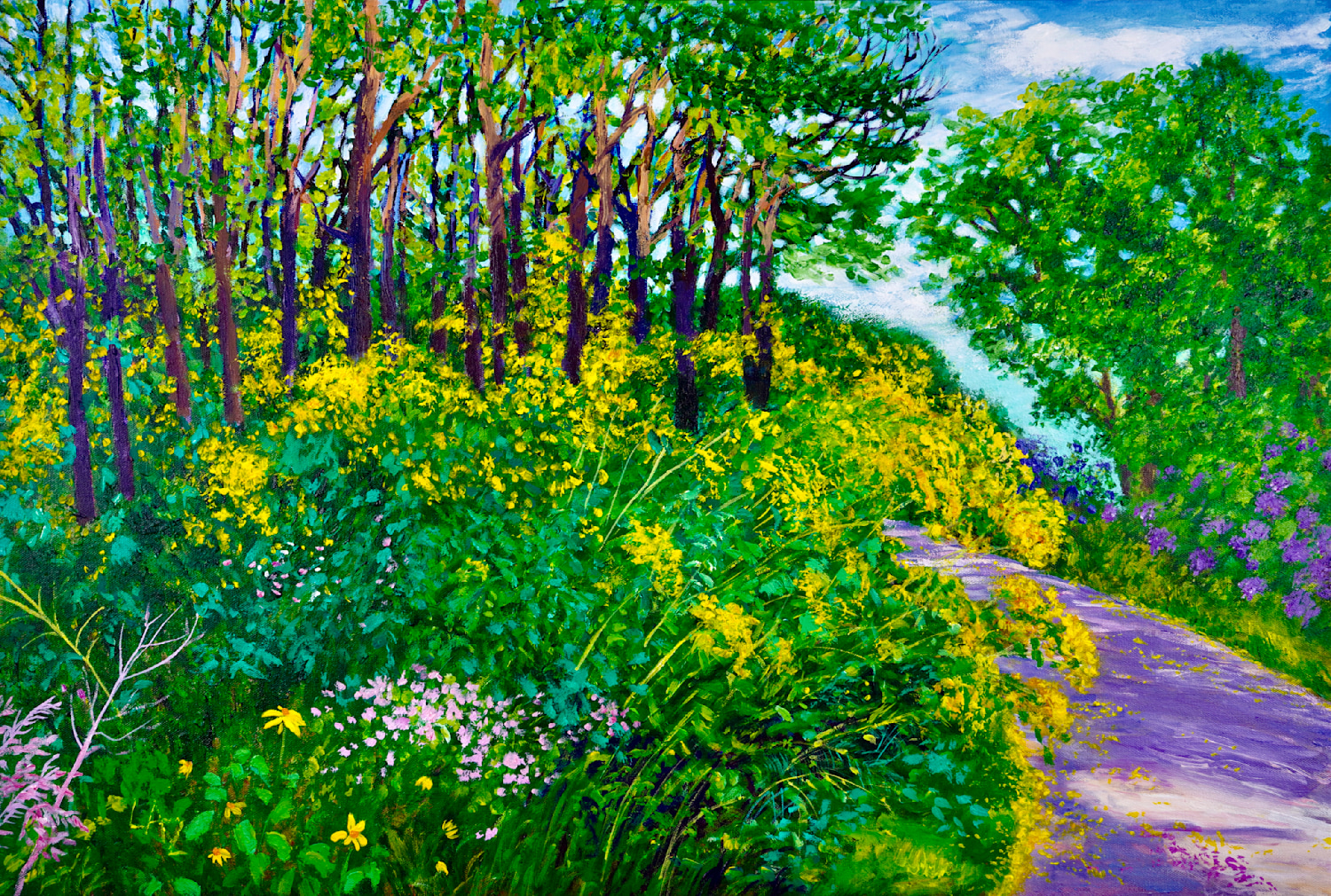 BUSINESS EXPO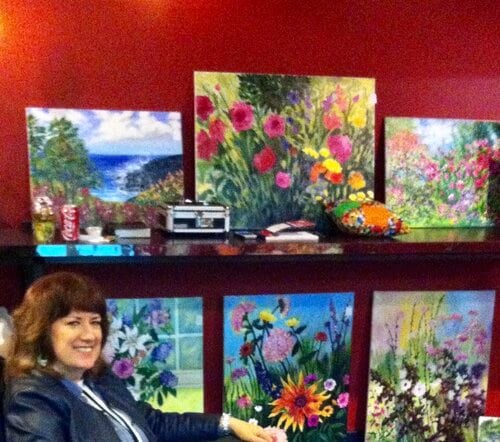 This is a photo of an ART EXHIBIT that I was a part of at a BUSINESS EXPO held at our church. I really enjoyed talking with all of the people that came through the exhibit that day and I sold seven paintings.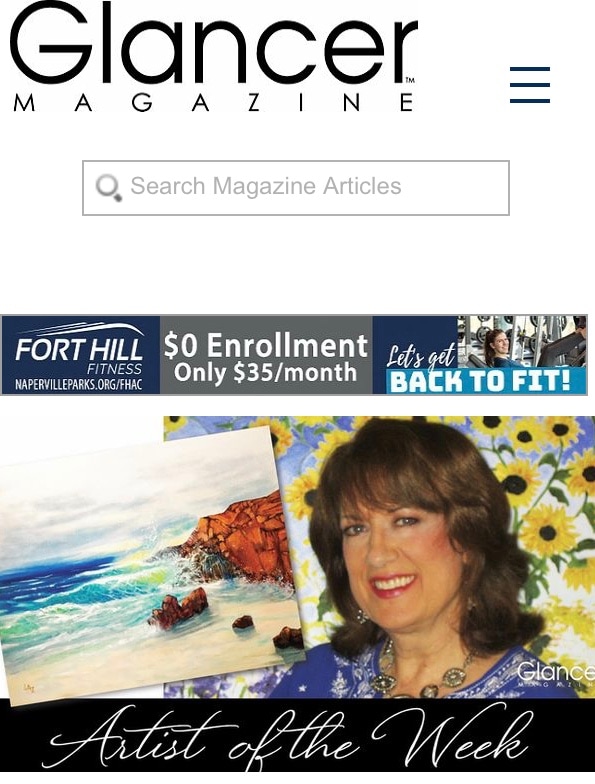 This photo is of a digital magazine that did a piece about my artwork.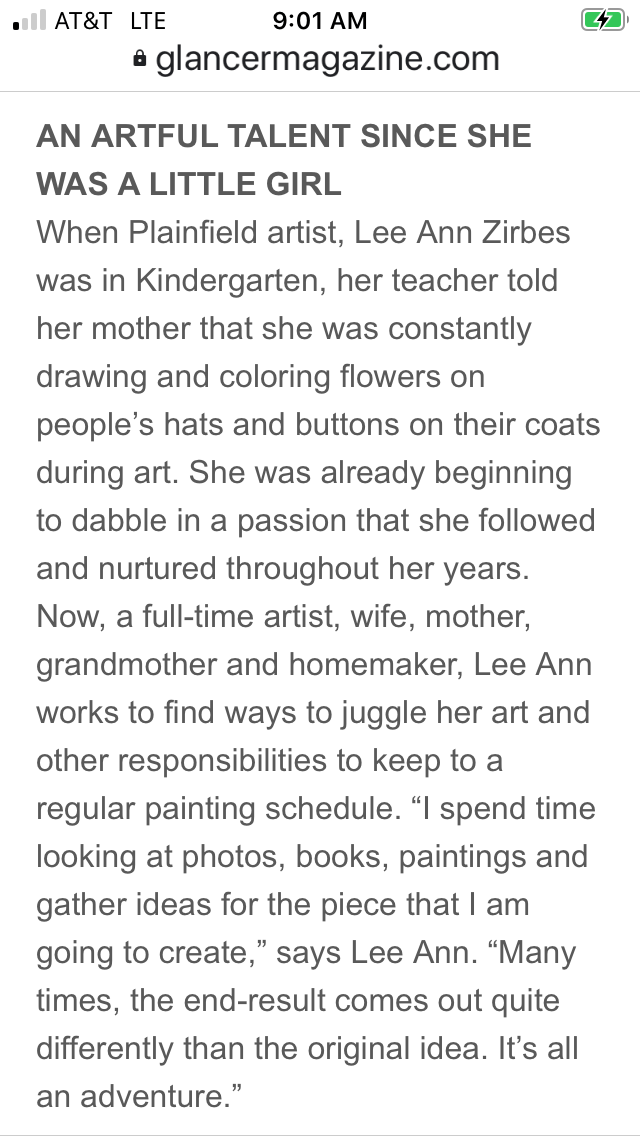 This is a write up in the local newspaper about my work.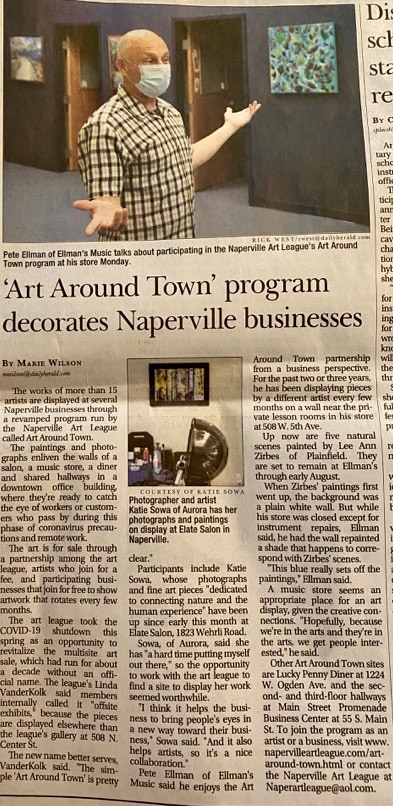 This is my desk where I do all of that real work in the real world.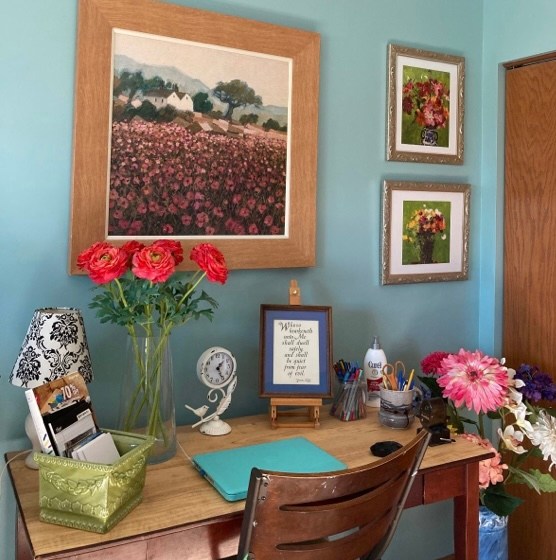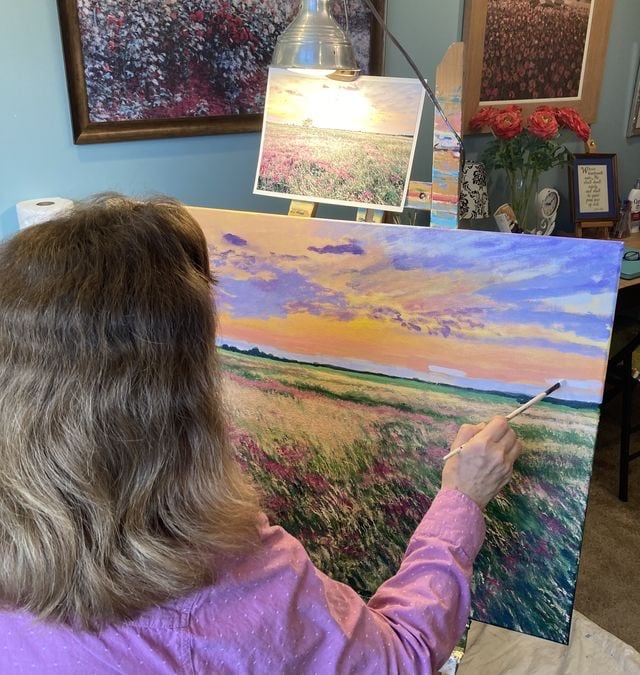 Here I am working on one of my favorite paintings "Prairie Love"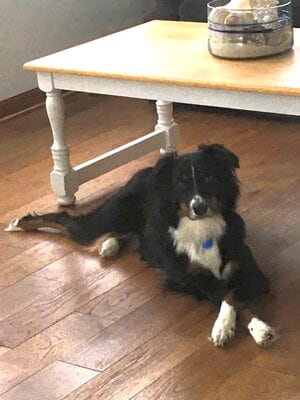 This is my Australian Shepherd "Sophia" she is a precious friend and helps me remember to get outside and get some much needed exercise. We go for a walk or play fetch almost every day.




THIS WAS A DIFFICULT STORY TO WRITE ABOUT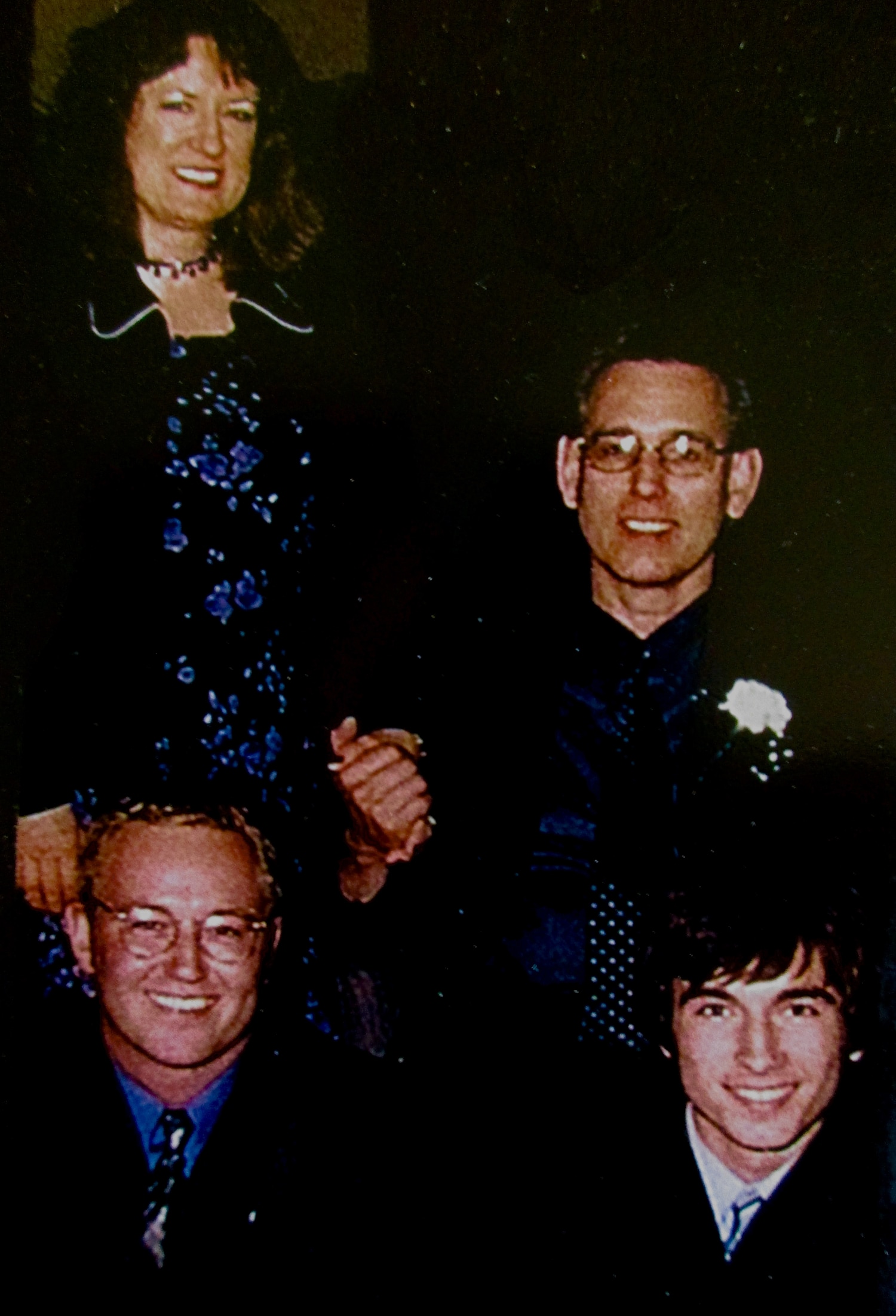 In August of 2004 we lost our 16 year old son Carl in a swimming accident at summer camp. He is pictured on the right. We were devastated. I found it difficult to function from day to day because I went into shock from the sudden and unexpected trauma. People were kind and thoughtful, but after awhile people want to get back about their lives, which can leave you feeling overwhelmed and alone. Things going on in the world at the time seemed to increase the difficulty and grief. That year there was drought, tsunami, floods, hurricanes, tornadoes, and earthquakes like we had never seen. It seemed like the end of the world, and it was definitely the end of my world the way that I had known it. I couldn't eat much or sleep at all for 30 days. Not long after Carl passed away our beloved Siberian husky named Kara passed away. After crying a swimming pool full of tears, trying to work outside my home on several jobs that I hated, I struggled while still in a state of shock to find some kind of new normal. I decided quit work, stay home, move my art supplies from my basement into Carl's empty room, set up my painting studio in there, and my art business was born.
Not long after this while I was still dealing with so much grief, my husband Mike was diagnosed with third stage lung cancer, was hospitalized and had surgery. Then I had to have both of my knees replaced, so I wound up in the hospital having surgery also. I felt like I was walking through a very dark tunnel and I couldn't see the light at the other end.
In all of this I knew that the only hope for me to have any kind of life again was to turn to Jesus Christ, my Lord and Savior. I knew that if I held on to His word, that I could find my way out. Psalm 61:1,2 Says: Hear my cry O God, listen to my prayer. From the ends of the earth I call to you, I call as my heart grows faint, lead me to the rock that is higher than I. For you are a refuge for me, a strong tower against the enemy. Psalm 62:1,2 Says: My soul finds rest in God alone, my salvation comes from Him. Truly he is my rock and my salvation, he is my fortress, I will never be shaken. From these scriptures and many others, I made a firm decision that with God's help I would carry on.
Jesus said in John 14:27 Peace I leave with you, my peace I give to you, not as the world gives I give to you. I meditated on this scripture day and night.
At Carl's service, Carl's friends got together and decided that the scripture that they would remember him by was going to be Romans 8:28. Carl died in the eighth month of the year on the twenty eighth day of the month. August 28th. Romans 8:28 Says: Now we know that all things work together for good to those who love God, to those who are the called according to his purpose.
We came through that dark tunnel and found the light on the other side because God helped us through there. After his surgery my husband Mike completely recovered from third stage lung cancer, because he stood on the scriptures. He stood on Mark 11:22,23 Which says: Have faith in God, Jesus answered. Truly I tell you, if anyone says to this mountain, go be cast into the sea, and does not doubt in his heart but believes that what they say will come to pass they will have whatever they say. Mike spoke those scriptures to that cancer and it left his body completely. I stood on Proverbs 3:5,6,7,8 which says: Trust in the Lord with all of your heart and lean not unto your own understanding, in all of your ways acknowledge him and he will direct your paths. Be not be wise in your own eyes, fear the Lord and depart from evil, this will bring health to your body and marrow and moistening to your bones. I now have two new strong healthy knees and health in my body because God provided that for me.
We decided early on that we would not say we miss Carl so much, but that we are really looking forward to seeing Carl again in Heaven. We know where he is because he repented of his sins, he asked Christ to forgive him, he believed in his heart that God raised Jesus from the dead and received Jesus Christ as his Lord and Saviour. First Thessalonians 4:13,14 and 16-18 Says: But I would not have you to be ignorant, brethren, concerning them which are asleep in death that you sorrow not as others who have no hope. For we believe that Jesus died and rose again, even so them also which sleep in Jesus will God bring with him. For the Lord himself shall descend from Heaven with a shout with the voice of the archangel and with the trumpet call of God, and the dead in Christ will rise first, then we which are alive and remain will be caught up together with them in the clouds to meet the Lord in the air, and so shall we ever be with the Lord. Comfort one another with these words.